Thailand martial law: Army chief meets key players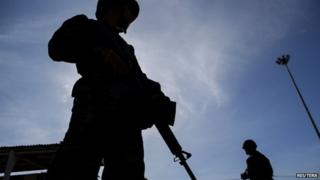 Thailand's army chief has held talks with key players in the political crisis, a day after declaring martial law in the protest-hit nation.
General Prayuth Chan-Ocha met representatives of the government and the two main protest factions.
But the talks ended without reaching a conclusion, one delegate said. More are due to be held on Thursday.
On Tuesday, acting PM Niwatthamrong Boonsongphaisan appealed to the army to act peacefully.
"The army chief asked us to go back home and think about the things we discussed in order to find a solution for the country," Puchong Nutrawong, secretary-general of the Election Commission, told Reuters news agency.
After the talks it could become clearer whether the military will restrict itself to security or extend its powers, a BBC correspondent says.
Deadlock cycle
Thailand has seen six months of unrest since protesters began a campaign in November 2013 to oust the government. At least 28 people have been killed and hundreds injured.
The army announced martial law in the early hours of Tuesday with the intention to "preserve order and bring back peacefulness".
It cited a 1914 law that allows intervention during times of crisis but insisted this was not a coup.
---
Thailand's martial law act of 1914
Gives the army chief control without PM's assent
Grants the military full powers to:
Summon officials and individuals for investigation
Search and seize individuals or items
Order compulsory military service and forced labour
Prohibit assemblies, media coverage, advertising, public transport
Destroy "enemy" dwellings and build army barracks anywhere
Thailand's turbulent history of military coups
---
Soldiers have taken over TV and radio stations in Bangkok - both pro and anti-government - and have moved into the currently unoccupied government building.
Thailand has been trapped in a cycle of political deadlock since the military ousted Thaksin Shinawatra as prime minister in 2006.
He was widely admired by poor, rural voters - who have since elected Thaksin-allied governments in both post-coup elections - but despised by the urban elite, who form the core of the current protest movement.
His sister, Yingluck Shinawatra, led the current government until she was ousted by a court earlier this month.
Acting PM Niwatthamrong Boonsongphaisan has asked for new elections to be called for August, after a snap poll in February was annulled because it was disrupted by protesters.
But the protesters say Shinawatra family money has corrupted Thailand's democracy and want an appointed administration to reform the political system before polls are held.
Any move to appoint a new administration, however, would infuriate "red-shirt" government supporters, who have vowed to protest.
The army has staged at least 11 coups since the end of the absolute monarchy in 1932.