Pakistan drops ammunition case against FBI agent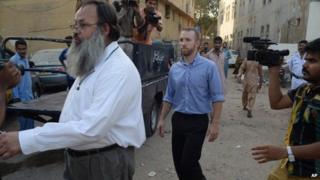 A court in the Pakistani city of Karachi has ordered that charges be dropped against a US FBI agent who was arrested for carrying ammunition.
Police told the court they were dropping the case after the government confirmed Joel Cox was authorised to carry arms for "personal protection".
Mr Cox was freed on bail earlier this month after being detained with bullets in his luggage at Karachi airport.
The US government said that he was on a temporary mission in Pakistan.
The FBI agent was held under anti-terrorism laws after security staff found 15 bullets for a 9mm handgun in his luggage ahead of a flight from Karachi to Islamabad.
He was bailed on a bond of 1m rupees ($10,000).
No weapon was found so Mr Cox could not be booked under the Illegal Arms Act, police said.
He was in Pakistan in connection with a police reforms programme being run by the government, officials added.
American agents operating inside Pakistan have been the cause of strained relations in the past and have fuelled anti-US feeling in the country.
In 2011 there was furore when CIA contractor Raymond Davis was arrested for shooting dead two men following what he said was an attempted armed robbery in Lahore.
Mr Davis was later released after the families of the dead men accepted "blood money".
The United States and Pakistan co-operate in the global fight against Islamist militants, angering many Pakistanis.