Thailand's Miss Universe beauty queen in political row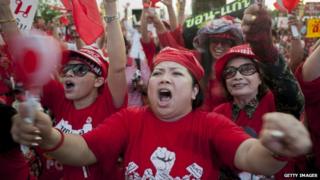 There could not be a more certain escape from the relentless pulse of Thailand's political conflict than the finale of the Miss Universe Thailand contest - could there?
To a fanfare of surging band music and sweeping stage lights, the winning candidate, 22-year-old Weluree Ditsayabut, was announced in a glitzy ceremony in Bangkok's upmarket Paragon shopping mall on Saturday night. She was picked to represent Thailand in the international Miss Universe pageant later this year, where the final winner is expected to tour the world, promoting global peace and compassion for those suffering from serious diseases.
But when some of Ms Weluree's past comments on Twitter and Facebook were dug out, a rather different and less flattering impression emerged. She is, it turns out, a passionate opponent of the government and its "red-shirt" supporters, and did not hold back saying what she thought of them.
"You red-shirt bastards, get out of here," she wrote last November. "Thailand is contaminated by people like you who want to overthrow the monarchy.
"You're wicked - you won't die peacefully in your beds," she wrote, " I'm not neutral. I'm siding with the king. You red-shirt leaders should all be executed."
Inevitably there has been a storm of negative comment fired back at Ms Weluree on social media sites here, with many people saying she is not fit to represent Thailand. The organisers of the Miss Universe Thailand contest have given no response to this.
However Ms Weluree appeared this morning on the television channel which had sponsored the contest, and after some gentle prodding, she apologised to everyone for her "inappropriate behaviour", and promised it would not happen again.
"Those were words I used among my close friends," she said, "and because I am young and impetuous, and did not think too much about them."
Hate speech
There was nothing exceptional about what she said, though. Over the past seven months, there has been a steady stream of emotional, abusive statements by activists on the stages of the protest movement, which has been trying to unseat the government.
Much of the abuse has been directed at former Prime Minister Yingluck Shinawatra and her family, some of it graphically sexual, or threatening extreme violence. There were even thinly-veiled threats against her 11-year-old son. Gruesome posters were displayed at opposition rallies showing the cabinet with their heads hacked off.
Human rights groups and many more moderate Thais have expressed their dismay over this lack of restraint, but the discussion about the prevalence of hate speech has made little progress.
Although defamation in Thailand is a criminal offence, and is currently being used against journalists and activists who have upset powerful interest groups, there is no penalty under Thai law for more general hate speech, or for stirring up religious or racial animosity.
In her apology Ms Weluree avoided any specific reference to what she wrote about the red shirts last November. She denied none of her inflammatory comments, but nor did she retract them. If she progresses to the final of the Miss Universe contest, that is something the judges might like to ask her about.