Has Tony Abbott miscalculated with his new budget?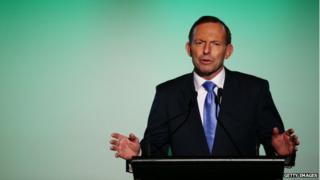 On these pages last week I asked whether Tony Abbott's first budget as Australian prime minister was brave or foolhardy.
Early evidence would suggest the answer is the latter.
Two new opinion polls show Mr Abbott's popularity and that of his government have tanked since last Wednesday's budget.
The economic policies have outraged the prime minister's usual critics.
But you know when The Australian newspaper, usually the government's most enthusiastic cheerleader, is suggesting he made a pig's ear of things and that the government has miscalculated.
The Australian is owned by Rupert Murdoch, famous for picking up on the public mood.
That mood is not good. The paper said the budget had been judged the worst ever.
Over the weekend tens of thousands took to the streets in cities across Australia in protest.
The numbers who turned out were still relatively small, but the government will be worried.
Mr Abbott's economic diet of new taxes, swathing cuts to public services and public broadcasters, a rise in the pension age and new payments to visit the doctor has clearly not gone down well with some voters.
But what has most likely caused more anger is that Australians feel they've been lied to.
During last year's election campaign, Mr Abbott was adamant none of those measures would happen under his watch and promised to be a government of "no surprises".
The prime minister has denied deceiving the public but his argument largely based on semantics is pretty thin. He's been accused of presenting "dog ate my homework" excuses.
The polls suggest the public thinks so too. There is lots of material like this doing the rounds on social media now branding the prime minister "phoney Tony".
The opposition Labor Party, previously in something of a hole, has been having a field day with the material.
And it is indeed quite astonishing to compare what Mr Abbott said pre-election to what the budget actually delivered.
He will likely struggle to get some of the budget proposals through a hostile Senate. That would be embarrassing.
These are early days in Mr Abbott's premiership. The next general election is still more than two years away.
But it's important to remember last year's victory at the polls wasn't so much a ringing endorsement of him, as an utter rejection of Labor.
Mr Abbott spent virtually all his time in opposition, lambasting the Labor government over its broken promises.
He may face his remaining time in office facing the same charge.