Japan Fukushima operator releases groundwater into sea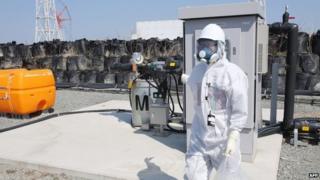 The operator of Japan's troubled nuclear power plant has started releasing groundwater into the sea.
The groundwater flows from hills around the Fukushima plant. Workers have been pumping it into storage before it seeps into contaminated areas.
Operator Tepco said the water released into the sea met safety guidelines.
Tepco has struggled to contain radioactive water at the plant, which was crippled by the March 2011 earthquake and tsunami.
Water is being used to cool nuclear reactors after the meltdowns - but this water then becomes highly radioactive and must be stored.
Groundwater has also been flowing into the plant, mixing with the cooling water and becoming contaminated.
Workers have struggled to safely store this water and there have been several leaks.
Under the new system, groundwater is pumped into storage before it reaches the plant. It is then released into the sea after radiation levels are checked.
Tepco said the tests used on the water were stricter than those required by the World Health Organisation and the Japanese government.
A Tepco spokesman told AFP news agency the "bypass system" reduced by up to 80 tonnes per day the volume of water becoming contaminated under the plant.
The move was agreed with local fishermen after extended negotiations.
Court ruling
The water release comes a day after Japanese newspaper Asahi Shimbun revealed in a report that about 90% of workers at the plant fled at the height of the meltdown crisis.
The paper's report was based on transcripts of interviews previously stored in the prime minister's office with the plant director, who died last year.
Meanwhile, a court in Japan ruled against restarting two nuclear reactors at a plant in Fukui prefecture after anti-nuclear campaigners questioned its safety.
The plant at Ohi was shut down along with Japan's other nuclear plants after the meltdowns of the Fukushima nuclear reactors.
Japan has since been forced to import huge amounts of coal, liquid natural gas and other fuels.