Why launch Thailand takeover now?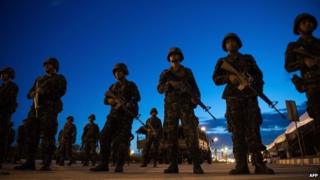 It was a strange day, but not because we were not expecting a military takeover - a coup had been on the cards since martial law was declared on Tuesday.
It was more the way events unfolded.
On Wednesday, Thailand's army chief Gen Prayuth Chan-ocha had summoned representatives of all the main political groups for talks.
They spoke for two hours and we were then briefed that things had gone well and that everyone had been given "homework" to complete on the key issues.
We were expecting more of the same on Thursday.
No-one realistically expected Thailand's deep-rooted political problems to be solved overnight - or indeed in a couple of hours of discussions - so why did Gen Prayuth decide to so dramatically end proceedings and seize power?
No timetable
Watching from outside the compound where the meeting was taking place, we saw military trucks suddenly block the entrances and exits before soldiers began to force us back.
Then minivans containing the leaders of the political parties, demonstrating groups and government emerged, escorted by troops.
Something was clearly up and a few minutes later Gen Prayuth appeared on television to announce that he had taken over.
Tellingly, in his address he spoke of restoring order and reforms, but not of a timetable for elections.
In the evening, decrees were issued consolidating the military's hold on power.
---
Key coup conditions
Curfew nationwide from 22:00 to 05:00
Gen Prayuth to head ruling National Peace and Order Maintaining Council
Senate and courts to continue operating
2007 constitution suspended except for chapter on monarchy
Political gatherings of more than five people banned, with penalties of up to a one-year jail term, 10,000 baht ($307) fine, or both
---
By then it had a new name for their command structure, the Orwellian sounding "National Peace and Order Maintaining Council".
Over a period of hours the constitution was suspended, TV channels blocked and a curfew imposed.
Protest camps were cleared - the pro-government Red Shirts' site outside Bangkok forcefully; the opposition PDRC movement's in the city centre more amicably, with buses laid on to take demonstrators home.
What changed?
For many of the PDRC's supporters, a coup is the end result they had been hoping for.
But questions remain. Did Gen Prayuth really expect to achieve success in talks in two short meetings? Or was it his always his intention to make a token nod towards negotiations before stepping in?
Could the talks really have been a ruse to get all the key leaders in one place before detaining them?
In the past, Gen Prayuth has expressed a reluctance to resort to a military coup.
So what changed from Tuesday to Thursday? There certainly was not a deterioration in security.
There has been some suggestion that elements within the Thai army may have forced his hand, or indeed that some external factor may have played a part.
The rush from martial law to full-blown coup has left many here shaking and scratching their heads.
Are you in Thailand? What is your reaction to the military coup? Email Haveyoursay@bbc.co.uk with your experiences, using the subject Thailand.