Afghan notebook: Sporting chance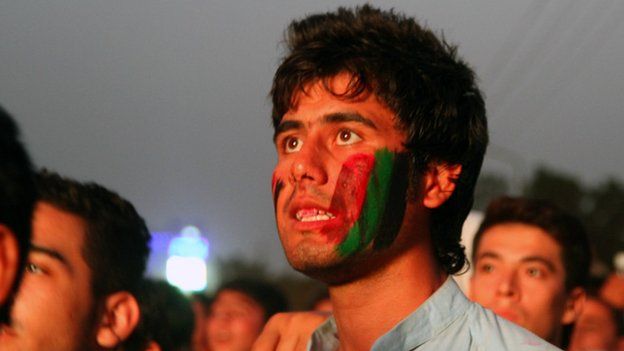 Two big events have been keeping Afghans glued to their television screens this month.
One is the Afghan national football team's progress through the Asian Challenge Cup in the Maldives.
The other is the second round of the presidential election campaign.
Since the fall of the Taliban, sport has emerged as the one area of Afghan life where people of all ethnic groups can forget their differences.
As the election heats up many Afghans are wondering what politicians could learn from sport about how to transcend their country's deep ethnic divisions.
It's a question Shamila Kohestani, the former captain of the Afghan women's football team, has been thinking about a lot.
"Sports provide an opportunity for people to tolerate each other despite their differences," she says
"Victories of athletes bring pride and cheer to Afghans and that's when they forget about ethnicity."
Pride and cheer have been much in evidence in recent years as crowds have poured onto the streets to celebrate famous wins by the national cricket and football teams.
In scenes once unthinkable, Afghans of all ages have turned the country into one big street party, dancing and waving flags, with their faces painted in the Afghan national colours of black, red and green.
But when it comes to politics ethnic divisions are more visible.
In the first round of the elections Abdullah Abdullah did well amongst ethnic Tajiks, as well as Hazaras because his running mate is from that ethnic group.
The other candidate, Ashraf Ghani Ahmadzai, is a Pashtun, and together with his Uzbek running mate he did particularly well in Pashtun and Uzbek areas of the country.
Many Afghans think it will take time to change this situation, but Shamila Kohestani says the country is already moving on.
"Ethnicity is not an issue for the young generation who make up more than half of Afghanistan's population," she says.
Taekwondo champion and two-time Olympic bronze medallist, Rohullah Nikpai, also believes sport is helping to change Afghanistan.
Many people see the moment Mr Nikpai, an ethnic Hazara and former refugee, won Afghanistan's first ever Olympic medal - in Beijing in 2008 - as a real milestone in the country's post-Taliban history.
"Sport doesn't recognise ethnic lines," he says. "That's why it can break down borders."
But Mr Nikpai feels the authorities haven't really woken up to the power of sport.
"The government doesn't understand the value of medals yet," he says. "It hasn't yet realised the positive impact on national unity."
Shamila Kohestani agrees. Whoever wins the presidential elections next month, she says, needs to put sport on their priority list.
However there are signs politicians are beginning to understand the benefits of joining in sporting celebrations.
When the Afghan national football team beat India to win the South Asian Championship in 2013, they were invited to the palace for a photocall with President Karzai.
And when the team beat Turkmenistan 3-1 in the Maldives both candidates running for president were quick to tweet their congratulations.
As the team was battling it out for a place in the AFC cup semi-finals, the two presidential hopefuls were introducing their new campaign teams for the election run-off.
Both Abdullah Abdullah and Ashraf Ghani Ahmadzai have been joined by high-profile supporters from different ethnic groups this time round.
Dr Abdullah now has two Pashtun big hitters on board - defeated candidates Zalmai Rassoul and Gul Agha Sherzai.
Ashraf Ghani has been joined by a big name from the Tajik camp - Ahmad Zia Massoud, the former vice president and brother of revered Tajik mujahedin commander Ahmad Shah Massoud.
This week Afghans all over the country have been on the edge of their seats cheering on the national football team.
The two presidential candidates, meanwhile, will be hoping a little football magic will rub off on their campaigns and help them persuade voters that this time round their message is more important than their ethnic origin.