Pakistan frees Indian fishermen ahead of Modi inauguration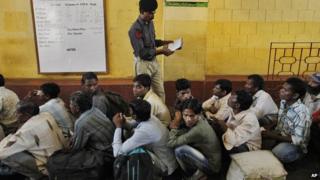 Pakistan's Prime Minister Nawaz Sharif has ordered the release of 151 detained Indian fishermen as a good will gesture on the eve of his visit to India.
Hundreds of Pakistani and Indian fishermen are languishing in jails for accidentally crossing the sea border.
Mr Sharif is to attend the inauguration of Narendra Modi as India's prime minister on Monday, the first Pakistani leader to be invited to such an event.
His visit is seen as a sign of tensions between the two countries easing.
Fifty-nine fishermen from a jail in Karachi and a further 92 in Hyderabad will be handed over to the Indian authorities on Monday, a statement from the prime minister's office said.
The handover will take place at the Wagha-Attari border, near the eastern city of Lahore.
Mr Sharif has also ordered the release of 57 Indian fishing boats which are currently in Pakistan's custody.
In a similar move, Sri Lanka ordered the release of all detained Indian fishermen, although it did not provide details of how many were currently in detention.
Mr Modi said on Twitter that he welcomed the steps by both countries.
The nuclear-armed neighbours have fought three wars in the past over the disputed Himalayan region of Kashmir.
Their relations suffered a huge setback after the 2008 attacks on the Indian city of Mumbai, in which nine gunmen killed 165 people. India blames Pakistan for the murders.
Many analysts are hopeful that Mr Sharif's visit will break the ice between the two countries, the BBC's Shumaila Jaffery reports from Lahore.
Narendra Modi led his BJP party to a landslide victory in the recent election which began on 7 April and ended earlier this month.