My Day: Robot scientist Tomotaka Takahashi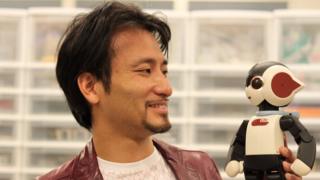 Tomotaka Takahashi is one of Japan's leading new-generation robot scientists, with his humanoid creations including Kirobo, the world's first talking robot sent to space to keep astronauts company. Professor Takahashi works at Tokyo University as a robotics researcher and also runs his company, Robo-Garage.
When I was about six, I started reading the manga comic Astroboy after finding it lying around at home. My dream, from that moment on, was to become a robot scientist.
I made my first robot around the same time, from soapbox and duct tape complete with a robot face. My first moving robot was when I was eight, using remote controls, gears, wheels and motors, with two hands.
It wasn't until later, when I was a student and the economy went bust, that I had to think properly about my future career. I realised how much I loved robots and studied hard to get onto an engineering course at Kyoto University.
Today, I am based at Tokyo University and also run my own company, Robo-Garage, which I set up in Kyoto after graduating - so it's roughly 50% research, 50% business.
Work hard
I do everything on my own. That's how I work best. I know it's more fun to have people around but it's not good in terms of focussing. I prefer to be on my own.
I have probably created more than 35 different types of robots so far. My first big commercial project was Manoi, a kit for robots with a cartoon shape and form. I also made Kirobo, a humanoid sent to the International Space Station last year, which was a big step in helping people to understand the concept of a communication robot.
Every day is different but there is normally one consistency - I work very, very hard. I wake around 08:00, drink one can of Red Bull, brush my teeth and then drive 10 minutes to work.
Sometimes I spend the night in my lab - I have a bed in the corner - to avoid wasting time driving back and forth as I'm so busy.
I usually don't have time to go out for lunch, so I eat instant cup noodles. Or power bars for energy, which are easier and faster than noodles.
Then I carry on working. I sometimes have business meetings and interviews. But mostly I'm working on my own in the lab: cutting, designing, painting. I do all the crafting in terms of creating the physical form of the robot. I also spend a lot of time programming.
My objective is always the same, to create the ideal robot. I'm attracted to humanoid forms because they're challenging and interesting, combining the beauty of human beings with the beauty of machines.
The biggest challenge is putting everything together. Critical tips are vital for communication - the slightest motion such as eye contact, or a neck movement, can help people feel there is life in a robot. One odd motion will make them completely lose interest.
I often have dinner in the lab - normally gyudon (a bowl of beef and rice) from a nearby store. Sometimes I eat dinner at home with my wife and two young daughters, who are five and two months. I also work weekends and many holidays.
Humanoid phones
In terms of relaxing, when I have time, I enjoy Nihon Kempo martial arts, which is like kickboxing. I have quite an extreme personality. I don't want to play tennis or golf. I need something more strict and intense.
I think this is the right moment for me to work hard. In five or 10 years, there will probably be less work in robotics because most things will already be invented.
Compared to other countries, Japan has a history of being quite advanced in robotics. But not much has really been done yet and that's part of the appeal.
Even a small invention can be a world first. It can be a great step for future robots. That makes this work very exciting.
I believe that smartphones of the future will be humanoid in form. This is my main work at the moment.
People don't want to talk to a square box: we want to talk to something with life. We talk to animals, insects, teddy bears - and we can also talk to robots.
That's why we need human forms for the next generation of smartphones - a kind of Tinkerbell or Jiminy Cricket, providing information, support and advice.
When will this happen? I'm creating a prototype at the moment. It's top secret and I'm currently in talks with a major company, but I estimate that pocket-sized humanoid robots will be available within around five years and everyone will have one.
My dream is to become the Steve Jobs of robotics. He invented a whole lifestyle via his gadgets. And I have the same objective - I want everyone to use communication robots in their daily life.
Tomotaka Takahashi was speaking to Danielle Demetriou in Tokyo, Japan.