What does Pakistan make of Narendra Modi?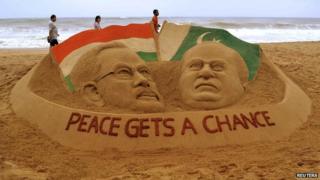 The victory of Narendra Modi's Bharatiya Janata Party in India's elections has created as much concern in Pakistan as Pakistani Prime Minister Nawaz Sharif's decision to attend his oath-taking ceremony has created excitement.
Both emotions invoke images from recent history.
Concern over the BJP's victory is linked to the widespread belief in Pakistan that the party is a political front for the Rashtriya Swayemsevak Sangh (RSS), a belligerent Hindu supremacist group that advocates a Hindu way of life and has been an active opponent of Muslim separatism in Kashmir.
Pakistan, which is 96% Muslim, disputes India's claim over Kashmir, supports separatists there and has fought three of its four wars with India over the Kashmir region.
There are also images of the RSS-led riots that culminated in the 1992 demolition of the 16th Century Babri Mosque in Ayodhya, and the 2002 communal riots in Gujarat in which more than 1,000 people, mainly Muslims, were killed.
Abid Hussain, a bookseller in Rawalpindi, speaks for most ordinary Pakistanis when he says Mr Modi's rise to power is "bad news".
"Modi will now try to build a Ram temple [on the site of the Babri Mosque in Ayodhya] and abolish the special [constitutional] status of Kashmir. More Muslim blood will flow in India," he says.
By comparison, excitement over Prime Minister Sharif's trip to Delhi is rooted in a history lesson that points in the opposite direction.
"The worst patches in Pakistan-India relations have come under the secular Congress party's rule, while they have invariably improved when non-Congress governments came into power," says Hussain Shaheed Soherwordi, a professor of International Relations at Peshawar University.
A case in point is that of India's first non-Congress prime minister, Morarji Desai, who had Bharatiya Jana Sangh, the predecessor of the BJP, as a member of his 1977-79 ruling coalition.
Pakistan awarded him the country's highest civilian award, Nishan-e-Imtiaz, in 1990. It was apparently in recognition of his efforts to lower tensions after a series of hostile developments over the preceding years, like the Pakistan-India war of 1971 that led to the secession of Bangladesh from Pakistan, and India's 1974 nuclear tests.
In 1998, the BJP's Atal Bihari Vajpayee became the first Indian prime minister to visit Lahore's Minar-e-Pakistan, a public monument symbolising Muslim separatism that culminated in the 1947 break-up of India and the creation of Pakistan.
Prof Soherwordi says Narendra Modi will prove no different despite some veiled threats he issued to Pakistan during his election campaign.
"People voted for him not because of Hindu nationalism, but because of his economic success in Gujarat. With Nawaz Sharif - himself a businessman - at the helm in Pakistan, we are likely to see a major thrust towards greater peace and trade."
But what sets Mr Modi apart from all the previous non-Congress Indian premiers is that none of them was a sworn member of the RSS, says Hafeez Chhachar, India expert and a former BBC Hindi correspondent in Islamabad.
"Unlike Mr Vajpayee, Mr Modi will be ideologically more amenable to the RSS rank-and-file when they selectively disburse state patronage at the grass-roots.
"This is certain to create unrest among Muslims and low-caste Hindus, which may be used by Pakistan's religious groups to create pressure on Prime Minister Sharif and limit his options."
A more important influence over Mr Sharif would be the Pakistani military, which has in the past resisted any rapprochement with India that does not include a resolution of the Kashmir issue.
"Despite encouraging signs, the two sides are not likely to sit down for normalisation talks any time soon," says Dr Hasan Askari Rizvi, a defence analyst based in Lahore.
"And when they do, India is not likely to put Kashmir on the menu as a first step; it will rather focus on trade."
So if Mr Sharif agrees to trade normalisation as the first step, how will the Pakistani military react?
A peep back at history reveals the following.
Mr Vajpayee's bus trip to Lahore was followed by the clandestine capture of India's Kargil heights by Pakistani forces, leading to a limited conflict. Mr Sharif, who was the prime minister then, publicly claimed he was not aware of the military's move.
Later, a composite dialogue set in motion in 2004 ended when a Pakistan-based militant group launched the spectacular Mumbai attacks in 2008.
Last year, Pakistan failed to extend large-scale trade concessions to India when tensions across the working boundary in Kashmir escalated, leading to the killing of more than a dozen soldiers on both sides.
But many say things have changed since then.
"The Pakistani military's doctrine that proxies should be raised to create strategic depth in Afghanistan against India failed when those proxies spawned groups that turned on Pakistan," says Dr Rizvi.
He says the military now appears to be more focused on the western border as it tries to secure it against a possible reverse flow of militants from Afghanistan, and would be more willing to lower tension on the eastern border with India.
"But there is still some ambiguity in the military mind over Kashmir, which may yet make it want to keep some of its proxies for future use."
So while the latest gestures of Mr Modi and Mr Sharif bring some rare hope to the two nuclear-armed rivals, there are still some potential pitfalls along the road to normalisation.