French police arrest Korean ferry owner's daughter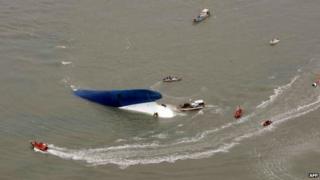 The daughter of fugitive Korean businessman Yoo Byung-eun - wanted in connection with a ferry disaster in April in which some 300 people died - has been arrested, officials say.
Yoo Som-Na, 47, was detained on Tuesday at her home in Paris under an international arrest warrant, judicial sources told the AFP news agency.
France is now due to extradite her, the Korean Yonghap news agency said.
The Sewol ferry had 476 passengers on board when it sank.
Of those 174 were rescued, and 58 remain unaccounted for. Many of those who died were high-school students.
A judge in Paris is due to decide on Wednesday whether Yoo Som-Na should be detained in custody pending a decision on her extradition, a process which the AFP agency says could take several months or longer if she contests it.
Safety warnings ignored
Through a series of complex cross-holdings, her father is believed to own the Chonghaejin Marine company that ran the sunken ferry.
Prosecutors say that the company ignored safety warnings and allowed the ship to be overloaded - resulting in the subsequent tragedy that received worldwide media attention.
They are offering a $500,000 reward for information leading to Mr Yoo's arrest.
He faces allegations of tax evasion, embezzlement and negligence following the sinking.
The Korean authorities are also searching for his eldest son, Yoo Dae-Kyun, offering a $100,000 for information leading to his arrest.
Last week police raided a compound of Mr Yoo's sect, the Evangelical Baptist Church, but found no trace of him.
South Korean President Park Geun-Hye on Tuesday said that fugitive members of his family were the "root cause" of the disaster.
Correspondents say that Mr Yoo is a mysterious and rarely photographed figure who in addition to being a wealthy businessman is a martial arts expert and an acclaimed nature photographer.