Thailand elections not for a year, says coup leader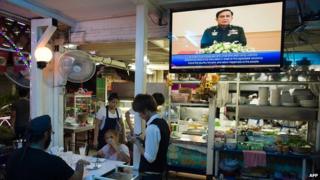 The leader of Thailand's military coup has said elections will not be held for more than a year, to allow time for political reconciliation and reform.
In a televised address, Gen Prayuth Chan-ocha called on all sides to co-operate and stop protesting.
He repeated warnings against any resistance to the military.
The Thai army seized power on 22 May, and detained senior politicians for several days saying stability had to be restored after months of unrest.
In his first public address since the coup, Gen Prayuth said: "The (ruling military regime) have a timeframe of one year and three months to move towards elections,
"Enough time has been wasted on conflict."
Gen Prayuth said a first phase of about three months would focus on "reconciliation" with a cabinet and new draft constitution put in place.
Reforms would then be introduced over a second, year-long, period and only after this could elections be held.
"Give us time to solve the problems for you. Then the soldiers will step back to look at Thailand from afar," he added.
Gen Prayuth has previously warned that if protests continued he would have no choice but to use force.
In his address he repeated the warnings, saying resistance would only slow the process of bringing "happiness" back to the Thai people.
Also on Friday, hundreds of troops sealed off a major Bangkok intersection during the evening rush hour to prevent a possible protest.
Thailand's military stepped in after six months of political deadlock as protesters tried to oust the government of Prime Minister Yingluck Shinawatra.
At least 28 people were killed and several hundred injured over the course of the protests.
Since taking power the military has summoned and detained dozens of key political figures, including Ms Yingluck. She has been released but remains under some restrictions.
Journalists and academics are also among those who have been called in.
On Monday the coup leaders received royal endorsement. However, the military's actions in removing an elected government has drawn widespread international criticism.
The current deadlock dates from 2006, when the military ousted Ms Yingluck's brother, Thaksin Shinawatra, in a coup.
Both have strong support in rural and northern areas, propelling them to successive election wins.
However, many in the middle class and urban elite, who comprise the heart of the anti-government movement that began in November 2013, oppose them bitterly.