Malaysia: Women abducted by suspected militants rescued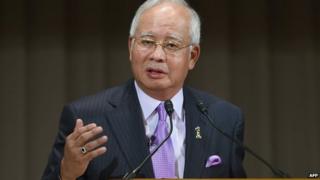 A Chinese tourist and Filipina hotel worker abducted in the Malaysian state of Sabah in April have been rescued.
The two women had been kidnapped by gunmen, believed to be Abu Sayyaf militants from the Philippines.
Malaysian Prime Minister Najib Razak said their release was the result of a joint Malaysian-Philippine effort. He said no ransom had been paid.
The Islamic group is on the US list of terror groups and has earned a reputation for kidnapping for ransom.
The 28-year-old Chinese woman and the 40-year-old Filipina woman were seized on 2 April from the Singamata Reef Resort, off the north-east coast of Borneo.
It is believed they were held in the southern Philippines.
The kidnappers demanded $11m for the release of the Chinese tourist, reports said.
However, Mr Najib said on his Twitter account that "no ransom [was] paid to secure their release".
"We are taking steps to facilitate the return of the Chinese national to her home as soon as possible," he added.
Abu Sayyaf, which has links to al-Qaeda, has been weakened over the years with the help of the US.
Officials have said they believe the group has only a few hundred members left.
The group is suspected to be behind the killing of a Taiwanese man and the kidnapping of his wife from another Sabah resort in November. The woman was freed in December.