N Korea sentences S Korea missionary to life of hard labour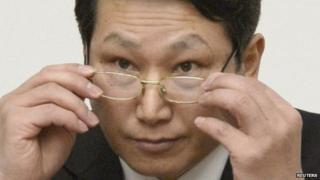 North Korea has sentenced a South Korean missionary to hard labour for life, after he was convicted of spying and setting up an underground church.
The state news agency said the man, named as Kim Jong-uk, had confessed to all his crimes.
Pyongyang is still holding another missionary, US citizen Kenneth Bae, who received 15 years hard labour in 2013.
Religious activity is restricted in the North, with missionaries arrested on multiple occasions in the past.
"Mr Kim tried to infiltrate into Pyongyang after illegally trespassing on the border for the purpose of setting up an underground church and gathering information about the internal affairs of the DPRK (North Korea) while luring its inhabitants into South Korea and spying on the DPRK," the KCNA news agency said.
The prosecution had reportedly been seeking a death sentence for the 50-year-old missionary.
The ruling comes three months after Kim read aloud a public apology on North Korean TV for his "anti-state crimes".
He was arrested after crossing into the country from China last October.
Earlier this year, Australian missionary John Short was deported from North Korea after being detained for allegedly distributing religious material.
Tensions are running high between the Koreas, following a recent exchange of gunfire between both countries' forces.