Taliban's Mullah Omar celebrates prisoner-swap 'victory'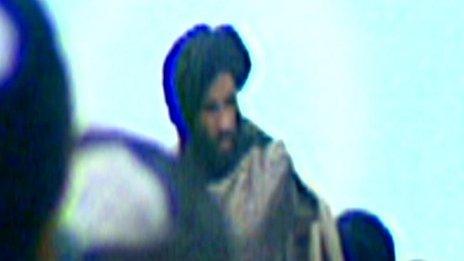 Afghan Taliban leader Mullah Mohammad Omar has issued a rare public statement hailing the exchange of five Guantanamo Bay detainees for a Taliban-held US soldier as a "big victory".
Sgt Bowe Bergdahl, 28, was handed to US forces in Afghanistan on Saturday.
The White House has defended the swap amid criticism from Republicans who said the deal was soft on terrorism.
Sgt Bergdahl's parents said their son's recovery would take a long time, in an emotional address on Sunday.
They said they had not yet spoken to the soldier, who is in a good condition and currently undergoing medical care at a US military hospital in Germany.
"Bowe's been gone for so long that it's going to be difficult to come back," his father, Robert Bergdahl, told journalists at a news briefing in Idaho, the family's home state.
"It's like a diver going deep on a dive and [having] to stage back up through decompression to get the nitrogen bubbles out of his system. If he comes up too fast, it could kill him."
The parents earlier revealed that Sgt Bergdahl had trouble speaking English. He was the only US soldier being held by the Taliban in Afghanistan.
Earlier on Sunday, Mullah Omar, who has made no public appearances or speeches since fleeing Afghanistan in 2001 when US-led forces toppled the Taliban after the 9/11 attacks in the US, said: "I extend my heartfelt congratulations to the entire Afghan Muslim nation."
The Afghan government, which was not informed of the deal until after the exchange had taken place, has condemned it as a "breach of international law".
"We are strongly opposed to it," it said in a statement, adding: "We want Qatar and the US government to let the men go free."
The five senior Afghan detainees are thought to be the most senior Afghans held at the US detention facility in Cuba, having been captured during America's military campaign in 2001.
David Loyn, BBC News, Kabul
Pictures of Taliban militants embracing their comrades released from Guantanamo, and comments by Mullah Omar calling this a "great victory", seemed designed to enrage Republican opponents of President Barack Obama who saw the deal as soft on terrorism.
The US defence secretary dismissed the criticism, saying this was an exchange of prisoners of war. He said that he hoped the deal would open the way to a wider peace process.
But sources close to the Taliban say that the deal took so long to negotiate because of a US desire to widen the scope of the talks. They say that this precise deal was on the table three years ago, but the negotiations failed because the US wanted to extend the talks into areas beyond a prisoner swap.
The Afghan government want talks on their terms to be held in Afghanistan. But any progress will have to wait the outcome of the Afghan election, now expected in August.
Republican opponents have criticised the Pentagon for not giving Congress the required 30-day notification before releasing the five.
But US Defence Secretary Chuck Hagel, who reportedly met some of the special forces team involved in the operation on a visit to Afghanistan on Sunday, said the military believed the soldier was in danger, and had to act quickly "essentially to save his life".
US National Security Adviser Susan Rice told US television there had been extensive consultations with Congress in the past about getting Sgt Bergdahl back, and lawmakers knew about the idea of trading detainees.
While hopeful the prisoner exchange could lead to a breakthrough in negotiations with the Taliban, Mr Hagel said getting Sgt Bergdahl back had been the priority.
Who are the Guantanamo detainees?
Mohammad Fazl served as the Taliban's deputy defence minister during America's military campaign in 2001. Accused of possible war crimes, including the murder of thousands of Shia Muslims.
Khirullah Khairkhwa was a senior Taliban official serving as interior minister and governor of Herat, Afghanistan's third largest city. Alleged to have had direct links to Osama Bin Laden.
Abdul Haq Wasiq was the Taliban's deputy minister of intelligence. Said to have been central in forming alliances with other Islamist groups to fight against US and coalition forces.
Mullah Norullah Noori was a senior Taliban military commander and a governor. Also accused of being involved in the mass killings of Shia Muslims.
Mohammad Nabi Omari held multiple Taliban leadership roles, including chief of security. Alleged to have been involved in attacks against US and coalition forces.
President Obama said on Saturday that he had received security guarantees from Qatar - which mediated the deal and where the five Afghan men have been flown - "that it will put in place measures to protect our national security".
Under the deal, they will be banned from leaving Qatar for at least a year.
Sgt Bergdahl, of Hailey, Idaho, was serving with an infantry regiment in Paktika province near the Pakistani border and went missing on 30 June 2009, just months after being deployed to Afghanistan.
The circumstances of his capture remain unclear, with speculation he may have walked away from his base out of disillusionment with the US campaign.
US officials say any decision over possible desertion charges will be made by the army, but there is a feeling the soldier has suffered enough.