Volcanic ash affects Bali flights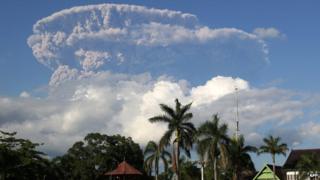 Air passengers travelling to Bali face more disruption because of ash spewed from a nearby volcano.
Australian carrier Jetstar said in a statement it had cancelled two flights on Monday "due to the ash cloud emanating from Sangeang Api".
Indonesia's Mount Sangeang Api volcano first erupted on Friday, creating ash clouds that grounded flights over northern Australia and Indonesia.
Most airlines had resumed a full service by Monday.
But Jetstar's cancellations raises the prospect of more travel disruption.
Australian Deputy Prime Minister Warren Truss warned after the weekend's problems it could take days for services to return to normal.
The fine particles of volcanic ash can potentially damage plane engines.
Darwin Volcanic Ash Advisory Centre spokeswoman Bri MacPherson said the ash cloud was being closely monitored.
"At this stage the volcano has been erupting to low levels and ash has been moving to the west and to the south west," she said.
"The winds are relatively light, so it's just slowly moving in those directions."
The Indonesian island of Sangeang Api has no permanent residents after they vacated following an eruption in 1988.
Indonesia lies across a series of geological fault-lines and is prone to frequent earthquakes and volcanic eruptions.
Tens of thousands of people fled their homes and several people were killed after a volcano erupted in east Java in February.