Thai curfew lifted in tourist resorts of Pattaya, Phuket and Koh Samui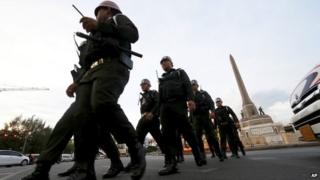 Thailand's ruling military council has announced it is lifting a night-time curfew in three popular tourist areas.
The nationwide curfew was imposed after the army seized power on 22 May and runs from midnight to 0400.
The council said the curfew had been lifted in the resorts of Pattaya, Phuket and Koh Samui. It remains in force in the rest of the country.
After it seized power, the army detained senior politicians for days, saying stability had to be restored.
Small demonstrations against the coup have taken place almost daily in Bangkok, despite the heavy military presence in the city.
Last week army chief Gen Prayuth Chan-ocha announced that elections would not be held for more than a year, to allow time for political reconciliation and reform.
But Thailand's economy remains a concern. Senior military officials have said that the priorities of the ruling council include restoring the confidence of investors and maintaining fiscal discipline.
Air Chief Marshal Prajin Juntong also laid out the junta's economic places late last Sunday, with a list of long-term priorities and spending plans.
Analysts say the fact that the junta is detailing its economic plans is another suggestion that it expects to be in power for some time.