Karachi in fear after Altaf Hussain arrest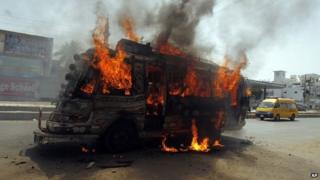 As soon as it became known that police in London had arrested the leader of Pakistan's MQM (Muttahida Qaumi Movement) party, Altaf Hussain, fear gripped the southern Pakistani city of Karachi which his party controls.
Reports are already emerging of sporadic violence and shootings, and several vehicles have been burned.
Upon hearing the news, the city effectively shut down. Offices and shops were closed and transport companies immediately suspended their services, with many passengers left stranded on the streets.
Paramilitary forces have been deployed at the British deputy high commission in Karachi.
'Afraid of bloodshed'
BBC Urdu's Riaz Sohail reports that in a city well used to routine violence, there is palpable concern over what could happen if anger among Mr Hussain's supporters turn violent.
The MQM is one of the country's leading political parties and has political control of Karachi.
"There is a lot of fear in the public. We have heard of vehicles burned already as well as shooting in locations around the city."
He described roads packed with people trying to find a way back home before the violence they dreaded broke out.
"Everyone wants to go home, where it is safe. There were many people stuck in traffic in cars - it is a very uncertain situation and people are afraid of more bloodshed in a city that is already violent.
"There is a big traffic jam and many vehicles do not even have enough fuel. Petrol stations are closed. They are effectively stuck. One colleague told me he was pushing his motorbike around in search of fuel. "
---
Who is Altaf Hussain?
Born in Karachi in 1953 to a middle-class family; studied pharmacy at university.
Formed MQM party in 1984 to represent Mohajirs - descendants of Urdu-speaking Muslims who migrated from India to Pakistan.
Requested political asylum in UK in 1992, later gained British citizenship; continues to run MQM from north London.
Pakistan's powerful but absent politician
---
Many road transport operators have suspended services because of the risk of damage to their vehicles should violence break out, and Pakistan's railway authorities have cancelled all outbound trains from the city.
MQM leaders have appealed for party workers to keep calm. They deny any MQM involvement in violence across the city, blaming instead "miscreants" in search of chaos.
'Karachi in jeopardy'
A security professional in the city also told the BBC that as soon as the news filtered out, it became clear that things could get out of control and Karachi was effectively in lockdown.
"When it comes to Karachi, if anything happens to Altaf Hussain, you can count on the city just shutting down and a lot of violence," he told the BBC.
He said that whenever something like this took place, it was the party workers who were most outraged. The leaders have made appeals for calm.
Several readers have also emailed the BBC News website describing the situation.
"MQM supporters are firing in streets and shopkeepers have closed down the shops as their supporters set fire to any shop which is open," Tahir reports.
One student wrote in to say that his university exams had been postponed as a result of the latest developments.
"I live in Karachi and currently the city is in turmoil," Nabil wrote in, while another reader simply said the lives of Karachi's people "are in jeopardy now".