Thailand junta claims neighbours' backing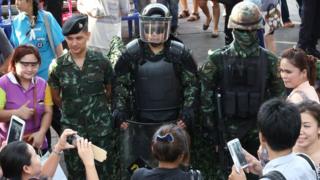 Thailand's ruling junta says neighbouring countries support their government, as the generals attempt to bolster their international legitimacy.
Army spokesman Yongyuth Mayalarp said China and Vietnam had given their backing, and Myanmar separately said it recognised the government.
Dozens of countries have condemned the coup and issued travels warnings.
Since it took power, the junta has introduced a nationwide curfew, curbed the media and reshuffled officials.
The military said it had to step in and remove the elected government after months of protests by anti-government groups.
However, analysts say the junta is conducting a purge designed to remove the powerbase of former Prime Minister Thaksin Shinawatra.
Mr Thaksin was overthrown in a coup in 2006, but parties loyal to him have continued to win elections.
'Endorsed by king'
A number of Western nations have condemned the coup, and downgraded relations with Thailand.
Australia and the US have suspended joint military exercises.
But Thailand's neighbours and the South East Asian bloc Asean have been quiet on the issue.
A senior official from Myanmar, formerly known as Burma, told Reuters news agency his country recognised the government.
"Thailand is a sovereign state and the military government has been endorsed by their king," said Aung Linn, a director-general at Myanmar's foreign affairs ministry.
Yongyuth Mayalarp said Vietnamese and Chinese delegations had met Thailand's military leaders, and had assured them that relations would remain unaffected.
"They hope the situation will return to normal quickly," he said.
Military officials say they will now visit a number of countries to explain the reasons for the coup and their plans for Thailand.
But reports suggest the vital tourism industry is already suffering, with industry chiefs predicting a massive downturn in visitor numbers.