China dismisses Philippine court case over sea row claims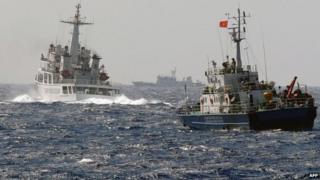 Beijing has dismissed an invitation by an international tribunal to submit evidence to back its territorial claims in the disputed South China Sea.
China had until 15 December to respond to a memorandum submitted by the Philippines, the Hague-based body said.
This is the first international case filed against China's sweeping claims in the South China Sea, which is also contested by other neighbouring states.
But so far Beijing has refused to take part in the proceedings.
"China's stance of not accepting and not participating in the relevant Philippines' arbitration case has not changed," Chinese Foreign Ministry spokesman Hong Lei told a media briefing in Beijing late on Wednesday.
The Philippines repeated its call for China to take part in the tribunal, saying arbitration is a "peaceful, open and friendly resolution mechanism that offers a durable solution to the disputes in the South China Sea".
"We continue to urge China to reconsider its decision not to participate in the arbitration proceedings," Philippine Foreign Affairs Department's spokesman Charles Jose told Reuters.
China's claims in the South China Sea are defined by the so-called nine-dash line that stretches hundreds of miles, but the Philippines and Vietnam reject it, Nga Pham of BBC Vietnamese reports.
Manila announced last year that it was taking China to the tribunal to challenge the Chinese claims under the auspices of the UN Convention on the Laws of the Sea but only submitted the memorandum setting out its legal arguments on 30 March.
Beijing refused to participate, preferring a direct bilateral approach with countries which dispute its claims.
Vietnam has also said it does not rule out the possibility of taking China to court after China's decision to move its largest oil rig into waters contested by both countries led to widespread protests inside Vietnam.
China, the Philippines, Brunei, Malaysia, Taiwan and Vietnam all claim overlapping parts of the South China Sea, a 3.5-million sq.km area said to be rich in oil and gas.