Vietnam soccer tycoon Nguyen Duc Kien gets 30 years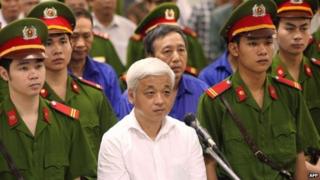 One of Vietnam's richest and most flamboyant businessmen has been sentenced to 30 years in jail for a multi-million dollar fraud.
Nguyen Duc Kien, who ran a top football club in Hanoi, was found guilty of tax evasion and illegal trading.
His arrest in 2012 caused share prices to plunge in the Asia Commercial Bank, which he founded.
His fall from power has been linked to a power struggle at the top of Vietnam's Communist hierarchy.
"The accused was not honest and so must be given serious punishment in line with his crime," said court president Nguyen Huu Chinh at the end of the two-week trial.
Kien was also handed a 75bn dong ($3.5m) fine.
He had previously been an ally of Prime Minister Nguyen Tan Dung.
Observers have suggested that the charges against him were a result of attempts by Mr Dung's enemies to weaken the position of the prime minister.
Mr Dung had introduced reforms that attempted to revitalise Vietnam's economy, restructuring the state industries along South Korean lines.
But other powerful figures in the leadership blamed Mr Dung's reforms for a dramatic slump in the economy.
They are more concerned with stability and the maintenance of one-party rule, observers say.