Karachi airport attack: How events unfolded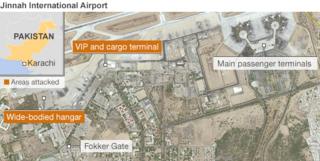 At least 28 people, including 10 militants, have died in an attack on Karachi's international airport. The BBC looks at how events unfolded.
The attack began just before midnight local time, when at least 10 gunmen stormed Jinnah Airport.
Security forces said they were in two teams of five and entered an area used mainly for cargo and private flights, hurling grenades and firing automatic weapons.
Witnesses told the BBC that the militants who entered via the Fokker gate came in a high-roofed van, which dropped them at the entrance and then quickly left.
There are reports that the militants used fake ID cards and disguised themselves as guards to get into the airport compound, although other reports suggest they cut through a barbed wire fence.
The heavily armed men shot their way into the airport terminal, and a five-hour battle with security forces followed.
Television pictures showed fires raging, and at least three explosions were heard as militants wearing suicide vests blew themselves up.
The BBC's Riaz Sohail, who was at the scene, said there were fears the militants might reach the Jinnah passenger terminal and harm passengers and hijack flights - so security forces tried to keep them in the cargo terminal.
At dawn, the authorities declared the airport cleared, and that all 10 attackers had been killed.
But later, fresh gunfire was heard inside the airport - this too appears to have abated.
The Pakistan Taliban have said they carried out the attack in revenge for the killing of their leader in an American drone strike last year.
Pakistan's paramilitary force has suggested some of the militants were Uzbeks.
The airport has now reopened.