Indonesia presidential hopeful Subianto in rights row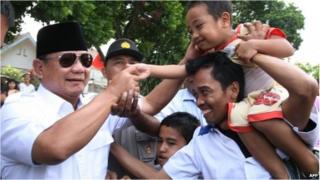 Indonesian presidential hopeful Prabowo Subianto has been forced to rebuff rights abuses claims during a televised debate between the candidates.
Mr Subianto, a former special forces general, told the TV audience his "conscience is clear".
He was dismissed from the army in 1998 after claims he abducted activists and tried to foment unrest.
Indonesia, one of the world's biggest democracies, will vote for a new president on 9 July.
Mr Subianto, a veteran of the political scene, faces relative newcomer Joko Widodo in a straight fight to succeed President Susilo Bambang Yudhoyono.
Mr Widodo made his name as mayor of the eastern city of Solo before taking over as governor of the capital Jakarta in 2012.
During the televised debate, Mr Widodo's running mate Jusuf Kalla pressed Mr Subianto on his military past.
"How would you resolve human rights violations that happened in the past and protect human rights in the future," Mr Kalla asked.
Mr Subianto said he understood the question to be an accusation that he had violated human rights.
"As a soldier, we did our duties as best as we could. It was our supervisors who appraised us," he said in apparent reference to his dismissal.
"I'm the staunchest defender of human rights in this country."
In 1998, former dictator Suharto fell from power and in the unrest that followed many student activists were kidnapped and killed.
Anti-Chinese riots spread across the capital, and there were rumours that the military was about to stage a coup.
A report commissioned by the government named Mr Subianto as a leading figure in the unrest, and he was dismissed from his post.
Since then, he has made his way back into politics, and stood unsuccessfully for vice-president in 2009.