Thai beauty queen quits over execution quote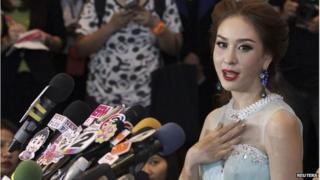 A Thai beauty queen has renounced her title after being criticised on social media for saying that certain political activists should be executed.
Weluree Ditsayabut, 22, was in tears as she announced her intention to give up her Miss Universe Thailand crown.
The comments which led to her departure refer to the Red Shirts - supporters of the recently ousted government.
"I am so angry at all these evil activists. They should be executed," she wrote a few months ago on Facebook.
"Thailand is contaminated by people like you who want to overthrow the monarchy... You're wicked - you won't die peacefully in your beds."
Social media users quickly fired back at Ms Weluree.
Many said she was not fit to represent Thailand in the Miss Universe competition, while others said that beauty queens should talk about world peace not executing people.
She was also accused of being too fat.
In her resignation speech on Monday, the actress and former talk show host said she could not cope with the vitriol that was being directed at her.
"I felt under pressure. I tried to improve myself but what I could not stand was to see my mother stressed," Miss Weluree told reporters.
"I have decided to sacrifice my status as Miss Universe Thailand."
The BBC's Jonathan Head says there is actually nothing exceptional about what Miss Weluree wrote.
Over the past seven months, there has been a steady stream of emotional, abusive statements by the protest movement which has been trying to unseat the government, our correspondent says.
Although defamation in Thailand is a criminal offence, and is currently being used against journalists and activists who have upset powerful interest groups, there is no penalty under Thai law for more general hate speech, or for stirring up religious or racial animosity.