Will S Korean crew get fair trial?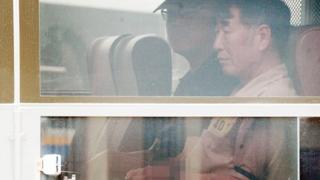 It feels to many in South Korea as if the 15 faces lined up in a Gwangju courtroom today have already been tried and convicted.
Even before divers had begun to bring up the bodies from the sunken ship, the Sewol's captain, Lee Joon-seok and the other rescued crew members were targets for the country's outrage and shock.
Pictures of Capt Lee climbing, half-dressed, over the upturned hull of the ferry towards rescue boats, or draped in a blanket among the survivors, were replayed again and again by television networks, as relatives began to absorb the news that hundreds of passengers - many of them school children - had died on board.
Claims by the captain and his crew that they had tried to save their passengers before leaving the ship were dismissed by an angry public. An employee from the ferry company itself told me his colleagues on board "should have done more".
Even President Park Geun-hye appeared to judge the actions of Capt Lee and his crew before any trial had taken place. Within a week of the disaster, she had labelled their behaviour as "an act of murder".
But the government itself has come in for a great deal of criticism - for mishandling the rescue, and for allowing ferry companies to run unsafe operations. Having blamed the crew for the "murder" of those on board, the president has also had to apologise to the nation herself.
Nationwide manhunt
The one person who is glaringly absent from the scene is the alleged chairman of the Chonghaejin Marine Company, which operated the Sewol ferry. Yoo Byung-eun was already a secretive man - the hidden patriarch of the family firm, and leader of a shadowy religious group called the Salvation Sect. Now he's the subject of a vast manhunt by South Korean police.
Mr Yoo is wanted as part of an investigation into embezzlement and tax fraud. Investigators are questioning whether corruption or mismanagement within the ferry company led to poor safety standards. But having failed to respond to an official summons, he's nowhere to be found.
A raid of the sect's main compound last month turned up no trace of him, and police have now raised the reward they're offering for information on his whereabouts to almost $500,000 (£300,000).
Local media, meanwhile, are joining in the hunt with reported sightings, rumours of his whereabouts and speculation over his latest movements.
Last month, Mr Yoo was reported to be in the southern city of Suncheon, staying with a member of his cult - many of whom have vowed to protect him. But when police arrived at the address, he had disappeared.
The latest search has focused on South Korea's southern coast, where police believe Mr Yoo may be looking to flee abroad by boat. Last week, the country's main news agency reported that he had begun contacted foreign embassies in Seoul, asking for shelter, and that the Foreign Ministry had issued a warning to diplomats here that Mr Yoo was wanted in a criminal investigation.
Warrants are already out for his daughter and his two sons, and prosecutors have now reportedly begun targeting his wife and her family, to increase the pressure.
In the aftermath of this disaster, with so much anger and blame directed at those deemed responsible, the pressure on government officials to capture key suspects is huge. That's proving hard enough. But in this raw and febrile atmosphere, guaranteeing them a fair trial may be much, much harder.