UN 'will mediate in China-Vietnam row'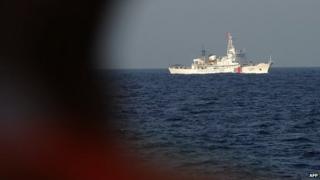 The United Nations says it is willing to mediate in the territorial row between China and Vietnam.
UN spokesman Stephane Dujarric called for both sides to resolve the dispute peacefully and legally.
In the past week, Vietnam and China have both sent dossiers outlining their claims in the South China Sea to UN chief Ban Ki-moon.
The latest phase of the row focuses on China's decision to move an oil rig into the disputed Paracel Islands.
The South China Sea is host to overlapping territorial claims by a number of countries.
Beijing claims almost the entire sea, based on a mid-20th Century map with a line apparently delineating Chinese territory, and vague historical claims going back more than 1,000 years.
Vietnam says it has controlled the Paracels for centuries.
Both sides have repeatedly accused the other of aggressive behaviour and ramming.
On Tuesday, China distributed in the UN a document outlining its historical claims in the region and accusing Vietnam of illegally disrupting its exploration in the area.
Vietnam hit back with its own dossier and called for Beijing to halt drilling off the Paracels and negotiate over the territory.
---
Vietnam-China tensions
China backs North Vietnam during the Vietnam war
1974: China and South Vietnam fight a war over the Paracel Islands; China seizes Vietnam-controlled islands.
After war, Hanoi moves closer to Russia, angered by Beijing's support for Khmer Rouge
1979: China and Vietnam fight a border war; thousands of troops die
1988: Two sides fight over the Spratly Islands; about 60 Vietnamese sailors killed
---
China's decision to move the rig sparked anti-Chinese protests in Vietnam, with mobs attacking factories and businesses.
Four people were killed in the violence, most of which appears to have mistakenly targeted Taiwanese firms.
Vietnam's UN envoy Le Hoai Trung told the Associated Press "some extreme elements" undertook actions that the government "very much regrets".
He said many suspects have been arrested and prosecuted, and the government has taken measures to prevent a repetition of the violence.