Pakistani media demand action over airport attack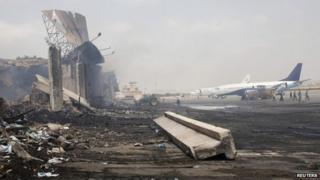 Pakistan media have reacted angrily to the Taliban attack at Karachi airport, in which at least 38 people died.
Most newspapers see the attack as a clear sign that the Pakistan Taliban group has returned to violence, and that the government's attempts at dialogue have failed.
"The Taliban have taken the failure of negotiations to mean they can revert to brutal violence," the Pakistan Observer says.
Calls on the government to accept the failure of talks feature widely. The Daily Times says the negotiation strategy is "bankrupt", and some commentators go further in calling for a military response.
Pakistan Today says the authorities should "fully concentrate on taking the fight to the Taliban", and analyst Talat Masood told Pakistan Television the time was right for a "fully fledged operation".
Security lapses
The intelligence agencies did not escape censure for failing to prevent the attack. The Daily Times accuses them of becoming "complacent" during the talks process.
The Express Tribune says the attack "highlighted the worst sort of intelligence failure by the state", and analyst Rahimullah Yousafzai told Aaj News TV that "such attacks indicate negligence and failure. They should not have happened in such places".
The conservative Urdu daily Nawa-i-Waqt says the nation is "anxiously awaiting a strategy to foil the enemies' designs", adding that the attack should serve as a "test case" for future defence requirements.
The Islamist Urdu daily Islam says the attack poses "serious questions about the security of other sensitive installations in the country", and calls for "fool-proof security" at all potential terrorist targets.
Only the Urdu newspaper Jang praises the security forces for "heroically foiling" the attack.
Foreign agents?
The News daily questions the ease with which the Taliban were able to attack such a busy airport, suggesting foreign involvement. "Although the Taliban group claimed responsibility... it has no capacity to launch such a daredevil attack... We would stress that it is certainly the handiwork of foreign agencies that brought in foreign terrorists, and this should be an eye opener."
Dawn newspaper on the other hand says that although the Taliban want to take "credit for something it may not have actually done", the "problems of terrorism and militancy are very much internal to Pakistan, not external".
Dawn accuses TV channels of overlooking guidelines on live coverage of terrorist acts and potentially endangering the rescue operation.
"While several aspects of the coverage deserve strong censure, it was the focus of the cameras and reporters on the movement of security personnel that was most disturbing: the channels ignored the fact that this was an ongoing incident with uncertain outcomes. One channel after another provided 'details' that could have jeopardised the operation and put lives in danger," the paper says.
BBC Monitoring reports and analyses news from TV, radio, web and print media around the world. For more reports from BBC Monitoring, click here. You can follow BBC Monitoring on Twitter and Facebook.