Karachi airport: Islamic Movement of Uzbekistan claims attack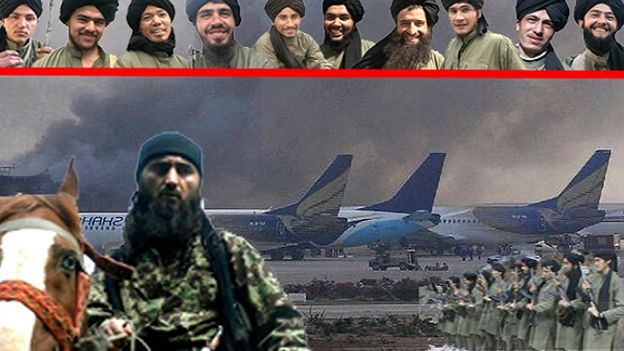 Uzbek militants fighting with the Pakistani Taliban say they carried out Sunday's deadly assault on Karachi's international airport.
The Islamic Movement of Uzbekistan posted photos of 10 men in black turbans holding AK-47s who had sought revenge for military air strikes.
At least 39 people were killed in the airport raid, including all 10 gunmen.
DNA tests are being conducted on the gunmen, who officials in Karachi said appeared to be of Uzbek origin.
The BBC's Shahzeb Jillani in Islamabad says the Islamic Movement of Uzbekistan (IMU) is a highly trained militant group, with bases in the North Waziristan tribal region.
It works closely with al-Qaeda and Taliban militants and has previously carried out large-scale co-ordinated attacks in Pakistan, including one on Peshawar airport in 2012.
Sunday's assault was followed by a second gun attack near the airport on Tuesday, raising tensions in Karachi further. Gunmen shot at a security camp outside the airport perimeter but there were no casualties.
The violence follows a major split in the Pakistani Taliban (TTP) and faltering peace talks between the militants and the government.
Islamic Movement of Uzbekistan
Insurgent group set up to overthrow President Islam Karimov and establish Sharia law in secular Uzbekistan
Uzbek militants fled their home country in the early 1990s after a government crackdown
In 1999 the IMU set up several military camps in northern Afghanistan from where it launched incursions into southern Kyrgyzstan and Uzbekistan in 1999 and 2000
When the US-led alliance invaded Afghanistan in 2001, the IMU announced its loyalty to the Taliban. After 2001 IMU fighters sought sanctuary in Pakistan's tribal areas
Estimates of current numbers in Pakistan range from several hundred to about 2,000. Many fighters have married into the local community.
Pakistan's leaders met to discuss security on Tuesday. The military have been targeting militants in the tribal north-west but it is still not clear whether a broader military offensive in the Taliban stronghold of North Waziristan could be given the political go-ahead.
Local media said the meeting had authorised the army to carry out "appropriate action" against terrorist groups.
Prime Minister Nawaz Sharif had pledged peace talks with the TTP during his election campaign.
Talks began in March, but little progress was made and violence has continued.
Gunmen attacked an area of Karachi's Jinnah international airport late on Sunday, opening fire and hurling grenades.
Security forces gained control following an overnight battle, and the airport reopened late on Monday.
On Wednesday another body was recovered from the airport, bring the total number killed to 39, including the attackers. Officials said the dead man was an airport security force official.
The Taliban have declared in statements that the wave of attacks will continue.
Correspondents say residents in Karachi have been shocked by the brazenness of Sunday's airport attack.
Pakistan has been fighting an Islamist insurgency for more than a decade, with the Pakistani Taliban the main militant grouping.