Baloch nationalist leader Nawab Khair Bakhsh Marri dies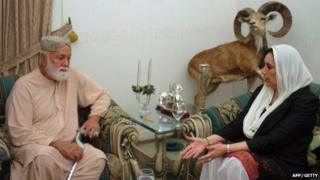 A veteran politician and tribal chief who led a separatist insurgency in Pakistan's Balochistan province 40 years ago has died at the age of 86.
Nawab Khair Bakhsh Marri had been admitted to hospital in Karachi with a brain haemorrhage.
Mr Marri spent years in exile after being freed from jail in the 1970s and remained a symbol of Baloch resistance.
One of his six sons, Balach Marri, was believed to be an active leader of the current insurgency in Balochistan.
He was killed in a contentious military swoop along the Pakistan-Afghanistan border in 2007.
Nawab Khair Bakhsh Marri was born in Balochistan's Kohlu region in February 1928, and was educated at Lahore's prestigious Aitchison College.
A Marxist in his political leanings, he was deeply influenced by the way Pakistan handled an armed Baloch movement for greater autonomy during the 1960s. The main leader of the movement, Sardar Nauroz Khan, was fraudulently invited to a dialogue by the military regime of Field Marshal Ayub Khan, arrested and put in jail where he died.
Mr Marri naturally gravitated to an anti-Ayub Khan alliance of mostly nationalist-leftist groups called the National Awami Party (NAP), and became its head for Balochistan province.
He won a parliamentary seat in the 1970 elections, which were won by NAP in Balochistan. But the government which was formed in the province was dismissed by the federal government, then led by Prime Minister Zulfikar Ali Bhutto, in 1974 after an insurgency broke out.
All NAP leaders, including Mr Marri, were arrested the following year in what came to be known as the Hyderabad conspiracy case. They remained in jail until Mr Bhutto's government was overthrown by another military leader, General Ziaul Haq, in 1977.
Meanwhile, thousands of Baloch insurgents joined the Marri tribesmen in an increasingly violent insurgency against the army, which forced much of its leadership across the border into Afghanistan.
After his release from jail in 1977, Mr Marri flew out to Europe on a brief visit before choosing to exile himself to Afghanistan, where most of the Baloch insurgents were based, and where by then a "friendly" communist regime had seized power in a coup.
He returned to Pakistan when the Najibullah administration began to crumble in the face of Islamic resistance, and had lived since then in Karachi.
Although Mr Marri never admitted this, many say he actively inspired the current Baloch insurgency back in 2000 when the government of yet another military leader, General Pervez Musaharraf, contracted some international firms to explore oil and gas in Kohlu region.
Mr Marri was of the view that Balochistan was forcibly annexed by Pakistan in 1947, and that Punjab, its most populous province, wanted to control Balochistan's rich mineral resources.
In a rare television interview in 2009, he famously said: "Personally, I have come to the conclusion that there can be no rapprochement with the Punjabis."
About one of his sons who heads the Balochistan chapter of Prime Minister Nawaz Sharif's Punjab-based "federalist" PML-N party, he said: "He will inherit my property, but not my political legacy."