Pakistan's 'fanatical' Uzbek militants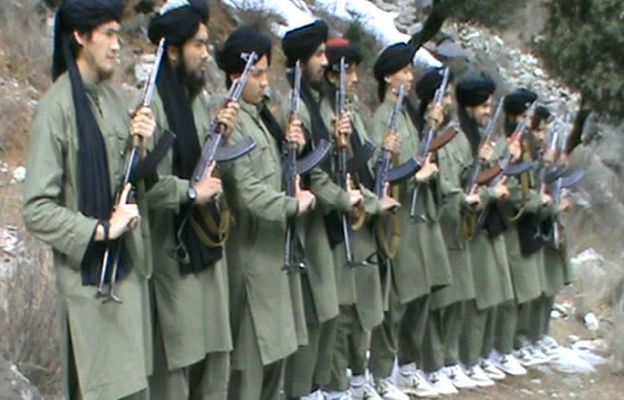 A militant group based in Pakistan's tribal areas, the Islamic Movement of Uzbekistan (IMU), says its fighters carried out the audacious attack on Karachi's international airport. Who are the IMU and what are they doing in Pakistan? Sirojiddin Tolibov of the BBC's Uzbek service reports.
Many of the foreign militants in North Waziristan belong to the al-Qaeda and Taliban-linked group, the Islamic Movement of Uzbekistan (IMU).
Founded in August 1998 in the north of Afghanistan, the IMU's main aim was to overthrow the secular government of President Islam Karimov and establish an Islamic caliphate in Uzbekistan.
Pushed out of Central Asia to Afghanistan in the late 1990s, the IMU has since reinvented itself as an ally of al-Qaeda and the Taliban with a foothold in Pakistan's tribal areas and the Afghan north close to the borders of Uzbekistan and Tajikistan.
Nobody knows exactly how many Uzbek fighters there are in Pakistan - estimates vary wildly from several hundred to a few thousand.
The group is currently under heavy military pressure both in Pakistan and Afghanistan.
But, many observers believe, it only needs to hold out until Nato's pullout from Afghanistan later this year to re-emerge.
In 1999 the IMU set up several military camps in northern Afghanistan from where it launched incursions into southern Kyrgyzstan and Uzbekistan in 1999 and 2000.
When the US-led alliance invaded Afghanistan in 2001, the IMU announced its loyalty to the Taliban.
The IMU managed to survive the US air strikes although it was seriously weakened.
It successfully re-organised itself in the tribal areas of North and South Waziristan over the following years.
A former IMU member told the BBC Uzbek service that there were more than 100 families in the tribal areas by the end of 2001.
Most of them were children and widowed women. Among them there were several hundred IMU members.
Having initially settled in South Waziristan, the IMU's leader Tahir Yuldashev became "a star speaker" in local mosques.
He adopted al-Qaeda's agenda and turned the IMU into one of the strongest non-Arab al-Qaeda groups.
The IMU also established close ties with the Pakistani Taliban.
Many of its militants became bodyguards of top Taliban and al-Qaeda leaders.
Usually better educated and with a Soviet military background, the IMU militants have carried out many attacks on Pakistani military and civilians since around 2006.
The IMU's recruitment base expanded from Central Asians - Uzbeks, Tajiks and Kyrgyz - to other nationalities, including Arabs, Afghans, Uighurs, Chechens and some Westerners.
The IMU faced new challenges when its leaders, Tahir Yuldashev and Usmon Adil, were killed in drone strikes in 2008 and 2012 respectively.
It is said the new leader of group, Usmon Ghazi, took tough measures to keep the group together by isolating his followers from the rest of militant network.
Although Central Asian governments continue to regard the organisation as the main threat to the region's stability, its capability as an operational force outside Pakistan and some parts of Afghanistan is questioned by analysts.
But in Pakistan the army faces a formidable opponent.
The Uzbek contingent is thought to have mixed with the local population to some extent, becoming a permanent fixture of the militant scene in Pakistan's north-western border areas.
Experts say that the Uzbeks were first targeted by Pakistani security forces in March 2007 when militants started attacking and killing Pakistani soldiers and paramilitary troops.
Since then IMU militants have been accused of numerous suicide attacks and of killing hundreds of tribal elders in Pakistan over the years.
Its militants carried out attacks on Pakistani forces in the tribal belt and are believed to have taken part in the Red Mosque siege in 2007, an attack on Peshawar airport in 2012, and several other suicide attacks on high-ranking Pakistani officials.
Under its current leadership, the IMU's military scope has expanded from attacking Pakistani forces in tribal areas to targeting Nato and Afghan forces in northern parts of Afghanistan.
The group is said to be integrated into the Taliban's shadow government in northern Afghanistan.
Nato's pullout of combat troops from Afghanistan in 2014, according to some specialists, might help the IMU to re-emerge in its volatile home region as what many fear will be a much tougher adversary.
Related Internet Links
The BBC is not responsible for the content of external sites.