Pakistan air raids in North Waziristan 'kill militants'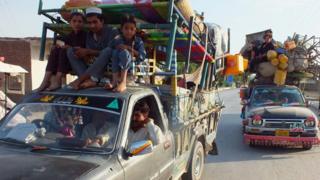 Pakistani fighter jets have carried out air strikes against militant hideouts in the north-west of the country.
Officials said scores of militants were killed in the raids but this has not been independently confirmed.
Among them was a suspected Uzbek leader of the deadly attack on Karachi airport a week ago, they added.
The strikes were in the mountainous Dehgan area in North Waziristan, a stronghold for Taliban and al-Qaeda-linked militants.
It is the second set of strikes in the region this week in response to the attack by the Pakistani Taliban (TTP) on Karachi airport last Sunday.
The TTP said Uzbek fighters took part in the assault on the international airport, which killed at least 28 people.
The Taliban said the assault was in revenge for the killing of their leader last year.
"The strikes were carried out based on confirmed reports about the presence of Uzbek and other militants in the area," an official said.
About 80 militants were killed, the officials said, although initial reports put the figure higher, at about 100.
One of those killed was Abu Abdul Rehman al-Maani, an Uzbek believed to have helped organise the airport siege, they added.
Al-Maani is considered a key commander of the Islamic Movement of Uzbekistan (IMU).
The IMU was formed in 1991 with the aim of setting up an Islamic state in the central Asian country of Uzbekistan.
However, it later broadened its ambitions to seeking an Islamic state across Central Asia. The US State Department designated it as a foreign terrorist organisation in 2000.
The BBC's Mike Wooldridge in Islamabad says the Pakistani government clearly wants to be seen hitting back hard against militants it believes were behind the Karachi attack.
Since the airport attack there has been renewed speculation about whether the government will launch a long-anticipated ground offensive in North Waziristan, he adds, although but there is no sign of that yet.
Analysts say the recent hostilities have all but destroyed a tentative peace process between the Pakistani Taliban and the government.
Pakistan has been fighting an Islamist insurgency for more than a decade, with the Pakistani Taliban the main militant grouping.
The government began peace talks with the Pakistani Taliban in March, but there was little progress and the violence has continued.