Pakistan jets renew strikes on tribal North Waziristan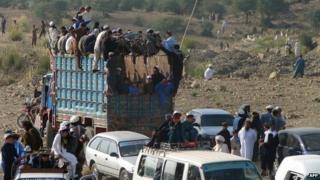 Pakistani fighter jets are reported to have carried out fresh air strikes against militants based in the north-west tribal area of North Waziristan.
The army says at least 160 militants have been killed since the start of the offensive. The army said six of its soldiers died in a bomb blast.
Many civilians fled in anticipation of the offensive, which the army hopes will disrupt militant strongholds.
It comes a week after a deadly militant attack on Karachi airport.
On Sunday, the government proclaimed that Abu Abdul Rehman al-Maani, an Uzbek believed to have helped organise the Karachi airport assault, was among those killed in the offensive in the mountainous area bordering Afghanistan.
There is no independent media access to the area and no way of confirming the casualty figures.
These latest strikes are said to have targeted the thickly forested Shawal Valley, an area with few roads where the army says the Taliban are known to have hideouts.
The authorities say they are setting up "surrender points" for the militants, but the army has been given the task of "eliminating" those who will not give themselves up.
---
Analysis - M Ilyas Khan, BBC News, Islamabad
The long-awaited military sweep in North Waziristan follows a spike in militant violence. It also comes after a major split in the TTP group of Pakistani Taliban which many believe was engineered by Pakistani intelligence.
But analysts have long suggested Pakistan would secure its western borders ahead of Nato quitting Afghanistan. The immediate purpose of the operation appears to be to evict foreign and local "terrorists" from North Waziristan. They will take time to regroup.
It is not clear if the Haqqani network and the Hafiz Gul Bahadur group - both of which are focused mainly on fighting in Afghanistan - fall within this definition.
Most "foreign" and TTP elements - who portray themselves as anti-Pakistan - took advantage of a two-week period when Pakistan reportedly pulled out forces from its side of the border. That was apparently aimed at avoiding ground battles with militants that could have been bloody at a time of delicate negotiations with other factions.
---
Sealed off
Sources believe that aircraft and artillery will form the basis of this offensive, the BBC's Mike Wooldridge reports from Islamabad.
There are already more than 60,000 troops in the region but reports say ground troops have not so far been involved in direct military action.
Our correspondent says that North Waziristan is effectively being sealed off, and Afghanistan has been asked to plug militant escape routes.
Reuters reports that the army has imposed an all-day curfew and switched off mobile phone services to stop militant communication.
Arrangements are also being made for the evacuation of those civilians remaining in the region.
"We have packed up everything and are ready to leave as soon as the curfew is lifted," Reuters quotes Ethasham Khan as saying from the main town in North Waziristan, Miranshah.
Concerned about a militant backlash, the authorities are also stepping up security across the country.
The US has long pressed for an offensive in North Waziristan, one of the last areas in the restive north-west where a large-scale push against insurgents has not taken place.
A new report on the use of US drone strikes claims they contributed to an increase in violence around the country and caused large numbers of militants to move elsewhere in Pakistan to avoid attack.
The first drone strike this year was carried out in the tribal region after the Karachi attack.
A statement from Prime Minister Nawaz Sharif's office said the government had tried to resolve the crisis through dialogue - a reference to peace talks with the Pakistani Taliban that began earlier this year - but it had been frustrated by continued attacks.