India's Narendra Modi woos Bhutan parliament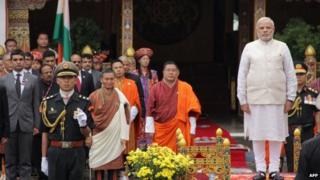 Indian PM Narendra Modi has told Bhutan's MPs that a strong and stable India is in its neighbours' interests.
In a speech to the Himalayan kingdom's parliament, Mr Modi invoked traditional ties with Bhutan. It is his first foreign trip as prime minister.
Mr Modi arrived on Sunday on a two-day visit to Thimphu where he met Bhutan's king and the prime minister.
Correspondents say Mr Modi's visit is an attempt to check China's growing influence in the region.
"India is committed to good relations with its neighbours," Mr Modi said in his address to the joint session of parliament on Monday morning, and assured Bhutan that a change in government in Delhi would not have an impact on its ties with Thimphu.
"Stability and development in India will help neighbours like Bhutan," he added.
Mr Modi was given a ceremonial guard of honour to welcome him on Sunday.
He also inaugurated Bhutan's Supreme Court, built with Indian assistance.
Bhutan has traditionally been among India's closest neighbours and analysts say the tiny Himalayan kingdom is strategically important to India because of its geographical proximity to China.
But last year, relations between the neighbours suffered after Delhi stopped a supply of subsidised gas to Bhutan with analysts linking it to Thimphu's growing proximity with Beijing.
The supplies were restored a fortnight later.