Sri Lanka riots: One killed as Buddhists target Muslims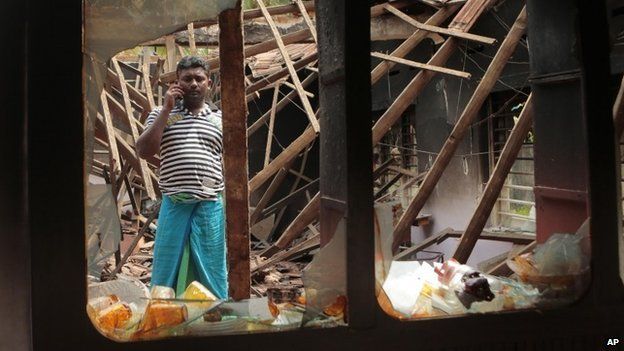 Renewed violence has flared in southern Sri Lanka as the number killed in violence blamed on hard-line Buddhists rose to four.
A guard at a Muslim-owned farm near Aluthgama town was killed and dozens of Muslim-run businesses and some homes were attacked despite a curfew.
Three Muslims died after an anti-Muslim rally on Sunday by the Bodu Bala Sena (BBS), an extremist Buddhist group.
The outbreak of sectarian violence is Sri Lanka's worst in years.
Muslims make up 10% of the country's mainly Buddhist population.
Many of the attacks on homes and businesses took place in the village of Welipenna, near Aluthgama. There have also been reports of attacks on Muslim businesses in two other towns elsewhere in the south.
The man killed at the farm near Aluthgama was an unarmed security guard from the country's Tamil minority.
He was hacked to death and his Sinhalese colleague seriously injured when a Buddhist mob raided the farm, the BBC's Charles Haviland in Colombo reports. The mob has been estimated to number between 50 and 120.
Reports from Aluthgama say Muslim residents there are running out of food because of a curfew and a blockade by Buddhist extremists.
Police say they have arrested 25 people, three-quarters of them Sinhalese, including two they suspect of involvement in the earlier killings.
The authorities say more than 80 people have so far been seriously injured in the violence since Sunday.
Correspondents say tension has recently been high between the two sides, with Muslims calling on the government to protect them from hate attacks by Buddhists, and Buddhists accusing minorities of enjoying too much influence.
For the past couple of years, Sinhalese Buddhist revivalist groups have been staging demonstrations heavily laden with anti-Muslim rhetoric, usually led by monks, our correspondent adds.