Patience urged as Afghanistan investigates poll fraud claims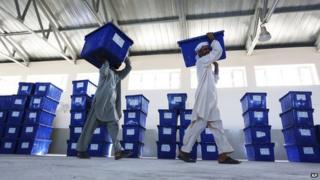 Afghanistan's security forces are braced for street demonstrations in the coming days, as rival camps in Saturday's presidential elections trade allegations of fraud.
The first official results are not expected until 2 July so all sides are being urged to show restraint in a country where political divisions are coloured by ethnicity.
The Election Complaints Commission (ECC) has begun to sift through more than 2,500 alleged violations, levelled at both presidential hopefuls and election officials.
Meanwhile, the BBC understands that President Karzai is holding meetings behind closed doors, amid the clamour to have a senior member of the election body suspended.
It follows claims that the official, Zia-Ul-Haq Amarkhail, personally interfered in the electoral process, after he was spotted shifting unused ballot material out of the election headquarters.
Attempts to stop him by a senior member of the police were broadcast on Afghan TV on election day, but there has been no explanation about what he was up to, creating suspicion in some quarters that the extra ballots could have been used fraudulently.
Unbelievable turnout?
Among the other alleged transgressions that the ECC is having to probe are ballot stuffing, intimidation, and underage voting.
Many, but by no means all of the allegations of foul play are coming from Abdullah Abdullah's camp, the presidential candidate who, in the first round of voting in April, secured a million-vote lead over Ashraf Ghani, but not enough votes to win an outright majority.
After claiming he was robbed of the top job following widespread fraud in 2009, Dr Abdullah, a former foreign minister, fears he is being robbed once again and has promised to provide evidence of fraud to the media "in due course".
Dr Abdullah claims that in some areas - particularly in the insecure east - there has been an "unbelievable high turnout". This, he claims, is a marker of "fraud engineered on an industrial scale". His allegations have still to be tested.
His key areas of concern are:
The accuracy of the seven million turnout figure provided by the Independent Electoral Commission (IEC) - a body he fears is partisan. His worry is that an inflated turnout figure could be used to mask fake votes
The apparent dramatic increase in voter turnout in some key areas - despite not many people living in those areas
Reports of high voter turnout in areas where high levels of insecurity have been a deterrent to voting in the past
Dr Ashraf Ghani's camp have also registered complaints of fraud and have accused Dr Abdullah of being selective in his criticism. But they have been less specific in their claims and told the BBC that they are content to leave the ECC to do its job.
Faizullah Zaki, who heads up Dr Ghani's campaign, said that the "mass mobilisation" of voters could help to explain why turnout figures appear to be higher in some places compared with the first round of the presidential race back in April.
He also claimed that in the second round they were able to get more women out to vote. The IEC said 38% of women cast their ballots in Saturday's presidential race - a figure which is considered high in what remains a deeply conservative country.
No confidence
A lengthy complaints and appeals process will mean it will take time for any concrete evidence of foul play to emerge. So Afghans are being urged to exercise patience.
Millions of dollars have been spent on getting the mechanics of this election right, and Afghanistan is under pressure to deliver a "credible" election result. But confidence in the country's institutions is still clouded in doubt amid worries of deep-seated corruption and cronyism.
Thousands of election workers were sacked following the first round of polls and Dr Abdullah says he has "no confidence" in the chief justice, who under the new constitution is responsible for hearing election disputes which are unresolved by the (ECC).
In 2009, arbitration of election disputes was handled by a hybrid body which included international figures. This time round the first port of call is the ECC and the international community is being far more "hands off" after past accusations by senior politicians of foreign meddling.
The Free and Fair Election Forum of Afghanistan (FEFA), an Afghan watchdog body charged with trying to improve democracy and governance, is calling on Afghanistan's leaders to show restraint.
It has its own reservations after it dispatched 9,000 of its own observers on election day. They returned with claims of violations at nearly 4,000 polling stations. But its view is that for democracy to prevail, the election authorities must be given time to do their job.
Nader Nadery, chairman of FEFA, said it appeared that "fraud has happened in different parts of the country but we just don't know the scale of it".
He has urged against "premature speculation" and said that any talk of "deals" between the two competing presidential camps would simply "undermine the electoral process".
Both sides appear to be positioning themselves ahead of any definitive result, with the possibility that Ashraf Ghani could fare better than he did in the first round.
Yet many commentators believe that the next few weeks will require strong leadership to avoid frustrations plunging Afghanistan into a crisis.