Battle over Indonesian red-light district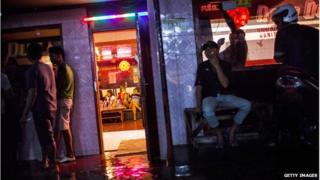 The Indonesian city of Surabaya is home to one of South-East Asia's biggest red-light districts. The authorities want to close it down, but those who live and work in the area are resisting the move.
Gang Dolly - Dolly Lane in English - began as a small collection of brothels back in the 1970s, and today has grown to house hundreds of prostitutes and pimps.
It's not just home to a thriving sex trade though. An economic eco-system has developed around Dolly.
The red-light area provides jobs and income for residents who do everything from selling food to potential clients to arranging the parking for their motorcycles - all for a price.
But now, the government wants all sex-trade activities in the red-light district to stop.
Officials set a deadline of Wednesday night, and they now plan to evict hundreds of sex workers from the area and close the 60 brothels.
'Block the streets'
In the run-up to the deadline, there were daily protests organised by residents and activists who want to save Gang Dolly.
Saputra, a resident and activist, says the shutdown will damage their incomes.
"We will block the streets and we won't let them in to stop what we are doing here," says Saputra, who declined to reveal his occupation.
In Dolly Lane at night, the streets are usually bustling with activity. But in the days leading up to the closure of the area, Dolly was unusually quiet.
Dozens of sex workers were hanging around on the pavements outside, waiting for customers.
In a house next to a brothel, a toddler sat on a terrace with his parents, while other children played football on the streets.
Residents and sex workers live side-by-side in Dolly.
Despite the fact that Indonesia is a deeply devout Muslim nation - home to the world's largest Muslim population in fact - Dolly has provided ample income for many of the residents, allowing them to raise their children and provide for their families.
"It's estimated that more than 14,000 people across Indonesia rely on income earned from red-light districts like Dolly," says Anissa, from Indonesia's Independent Youth Community (KOPI) organisation.
"Thousands of children depend on their parents who earn money from this area.
"The local government didn't talk to any of the sex workers or the residents here before deciding to shut this place down - it will impact everyone who lives here."
Lis, 38, is already feeling the impact. She's been a sex worker for 12 years, and she has two children who are in school.
"I never made it past elementary school as a young child," Lis says.
"I want my children to have a better future than I did. I have to earn money for my kids and my family. If I don't work, I can't give them any money."
Lis says she can earn between $250 to $800 (£147 to £472) each month, depending on how many customers she gets. But she doesn't get to keep all of her earnings.
She makes about $10 per customer - but only gets to keep about half of that for herself. Some 50% of her earnings go to the owner of the brothel.
Prostitution is illegal in Indonesia but closing down red-light districts has always been a challenge for officials because of the number of people who depend on the sex trade to make a living.
'Public will'
But the authorities in Surabaya say they are serious about cleaning up Gang Dolly.
"The public - those who don't live in Gang Dolly - want to close it down," says Saifullah Yusuf, the vice governor of East Java.
"It's their will - not ours. We only agreed because we are worried about the children who live there and the impact the sex trade is having on them. We are also worried about increasing HIV rates."
The government is providing financial compensation of about $500 to each of the 1,400 sex workers in the area, to make up for the loss in income these workers will suffer after Dolly Lane is shut down.
Officials say they will also provide training for them to be able to change jobs.
But local non-governmental organisation (NGO) workers who have spent years helping out in the Dolly community say that it's not easy for sex workers to change their profession.
"Most of these women aren't educated, so it's going to be very hard for them to find jobs," said Lilik Sulistyowati, the director of Yayasan Abdi Asih.
"We have to equip them with new skills, but it takes time and patience - it will take at least a year to teach them a new skill so they can earn money doing something else. What will happen to their families in the interim?"
Back in Dolly Lane, the protests continue. Residents and sex workers here are adamant that their way of life can't and won't be stopped.
"We will keep going," said Saputra. "No-one can stop us. Even if they stop us it will only be for one month - during the fasting month of Ramadan. We stop at that time anyway every year.
"Once the fasting month is over, we'll be back in operation again. No-one can stop Gang Dolly."