Pope Francis Asia trip to honour Korean 'martyrs'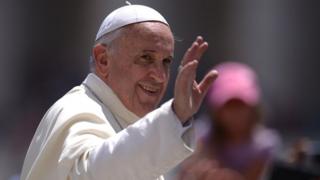 Pope Francis has announced he will visit South Korea on his first trip to Asia as pontiff, where he will honour 124 Korean "martyrs".
The Pope will visit South Korea in mid-August, where he will beatify 124 Korean Christians who died during the 17th and 18th Centuries.
It is the first papal visit to Asia since 1995, when five million saw Pope John Paul II in the Philippines.
Francis will also make trips to Sri Lanka and the Philippines in January.
Pope Francis' predecessor Pope Benedict did not visit Asia during his papacy.
The visit will also be the first time in 25 years that a Pope has visited the Korean peninsula.
The Vatican also said Pope Francis is also expected to meet relatives of the victims from April's Sewol passenger ferry disaster during his trip.
While in Seoul, the Pope will lead an Asian Catholic youth festival.
He is also scheduled to meet South Korean President Park Geun-Hye in Seoul before he travels to Daejeon city to celebrate Mass.
One of the main focuses of the Pope's inaugural Asia trip will be a Mass for peace and reconciliation to be celebrated in Seoul's cathedral on the final day of his visit.
A beatification Mass will be held on 16 August for Korean martyrs killed during the anti-Christian persecution of the 17th and 18th Centuries.
Beatification is the third of four steps in the process by which someone officially becomes a saint.
It requires at least one miracle to have been attributed to the intercession of a candidate for sainthood who, once beatified, is given the title blessed.