Drug cash turning Taliban into wealthy criminals - UN report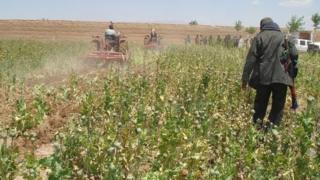 As Nato retreats from Afghanistan, the Taliban are rolling in cash and the movement is turning into a wealthy criminal enterprise, according to a United Nations report.
After a "bumper year" for earnings from narcotics and other illicit activities including kidnapping and unlicensed mining, some factions have become "mafia-like crime syndicates" motivated more by money than by religion, says the UN body monitoring sanctions on the Taliban.
The millions of dollars a month pouring into its coffers may keep the fighting going even longer - with some Taliban seeing peace as a threat to their profits.
It is an echo of the early stages of the Northern Ireland peace process when some elements of the IRA resisted negotiations for similar reasons.
Profitable opium
Despite its ban on opium poppy cultivation when in power, the Taliban's best earner is from Afghanistan's illegal drugs trade, according to the UN - and its income has soared following last year's record harvest.
As British and US troops pack up their last bases in Helmand - the lead drugs-producing province - the Taliban could make $50m (£29.4m) this year from taxing production there says the report. Next year that figure could be even higher.
The UN figures are mostly estimates, based on a variety of sources in Afghanistan and from foreign intelligence agencies, and the report's authors admit it is only a partial picture. As long as the Taliban's money pipelines continue to flow, experts say, there's little hope of taming its insurgency. Reports suggest the recent blitzkrieg-style takeover of swathes of Iraq by Sunni militants linked to ISIS was partly fuelled by hugely increased resources, including the group's control of certain Syrian oil fields
Donations to the Taliban - both voluntary and forced - from Afghans abroad and religiously motivated supporters in the Gulf remain a key source of income, channelled to its leaders in Pakistan by hawala agents or informal money dealers.
Diversification Taliban-style
But the Taliban are generating much greater revenues inside Afghanistan, according to the UN monitors, and like a successful business they have diversified.
Diversification Taliban-style has meant more kidnapping for ransom as well as greater involvement in illegal mining, the timber trade and smuggling precious stones.
The UN estimates the movement is now earning more than $10m a year from the unlicensed mining of marble in Helmand - the Taliban's biggest revenue-generating province, despite the vast expenditure there of British and American lives and money.
Illegal mining has grown so much in Taliban-controlled areas of Helmand that it "appears to be several times larger than the legal mining sector".
With so much cash flowing, the UN report says the Taliban is changing "from a group based on religiously couched ideology to a coalition of increasingly criminalized networks, guided by the profit motive".
This "mafia-like" Taliban could further undermine hopes of ending the fighting in Afghanistan. There are signs its crime bonanza is becoming a "resource curse" says the report, acting as a disincentive to talks.
The more significant obstacle to serious negotiations, experts say, remains a belief among Taliban leaders that they can regain power once the US has pulled out. But if they eventually pursue a peace process, they may face opposition from factions which are doing well from the war.
Denial
Although in a very different conflict, the IRA faced a similar challenge in the late 1990s with splinter groups motivated as much by protecting illicit incomes as ideology.
There are signs of division already, says the report, with new groups emerging with sufficient funds "to behave with increasing autonomy" from the Taliban central command.
Meanwhile, Taliban groups which extort cash from contractors serving Nato are feeling the pinch as it draws down, further fuelling these internal divisions.
The Taliban not surprisingly reject the UN report.
"We are not becoming a mafia-like organisation", a spokesman told the BBC. "We are fighting for Islam and the good of Afghanistan."
He challenged the UN to provide evidence the Taliban was profiting from the drugs trade.
"It is well known that we banned poppy growing and we still oppose it."