Australia drops planned Aborigine nuclear waste site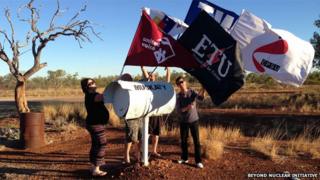 Australia has dropped a plan to place its first nuclear waste dump on Aborigine land, after a long-running legal case ended.
Aboriginal landowners had argued that the proposed site, at Muckaty Station in the Northern Territory, was next to an area they considered sacred.
Both sides agreed to discontinue the legal case after the government said it would not proceed with the plan.
It is now looking for other sites to locate the nuclear waste.
In 2007, a section of Muckaty Station had been nominated by the Northern Land Council, an official body charged with representing Aboriginal interests, to store low and intermediate radioactive waste.
The Council had negotiated the deal with the Aboriginal Ngapa clan.
But four other clans with claims on the land opposed the move, and said the government and Council had not obtained their consent.
The Council's chief executive Joe Morrison said his organisation would now focus on reconciling families in the area, as the incident had created "great division".
"That division and argument are the most unfortunate consequences of this whole case being brought about and its being whipped up by special interests groups, pursuing their own agendas," he told Australia's ABC.
Landowner Lorna Fejo said she was "ecstatic" about the decision, and said it was "her duty" to protect the area.
"My grandmother gave me that land in perfect condition and other lands to my two brothers, who are now deceased," she told the Sydney Morning Herald.