Pakistan army Waziristan offensive: 350,000 displaced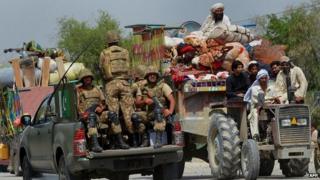 Some 350,000 people have been displaced since the start of an army offensive against militants in Pakistan's North Waziristan a week ago, officials say.
Long lines of buses and lorries are reported waiting in intense heat for security clearance to enter the nearest town of Bannu.
There are fears the refugees could spread polio, as many of the displaced children have not been vaccinated.
The offensive began after a deadly attack on Karachi airport.
The attack was claimed by an Uzbek militant group and the Pakistani Taliban.
'No faith'
Tens of thousands of children are among those who are currently on the move in the tribal region.
Many of them have never been vaccinated for highly-infectious diseases - like polio - because of a Taliban-imposed ban.
Local officials say they are doing everything they can to deal with the unfolding humanitarian crisis.
A camp for the displaced people has been set up near Bannu.
But most families have refused to go there, saying the place lacks basic necessities like water, food and sanitation, the BBC's Shahzeb Jillani in Islamabad reports.
Several refugees told the BBC they felt angry at the military for bombing their homes. Many more admitted they had no faith that the Pakistani government could help them.
The army said at least 200 militants, many of them Uzbeks, had been killed since it began air strikes on militant targets in Shawal and other areas of North Waziristan last Sunday.
There is no independent media access to the area and no way of confirming the casualty figures.
Tanks and troops are also being sent in for a full-scale operation to target Taliban and foreign militant networks based near the Afghan border, the military says.
North Waziristan is thought to have a population of between 550,000 and 700,000. Officials say approximately 80% of the population is still living in the area as the military strikes escalate.