Japan lawmaker admits to sexist remark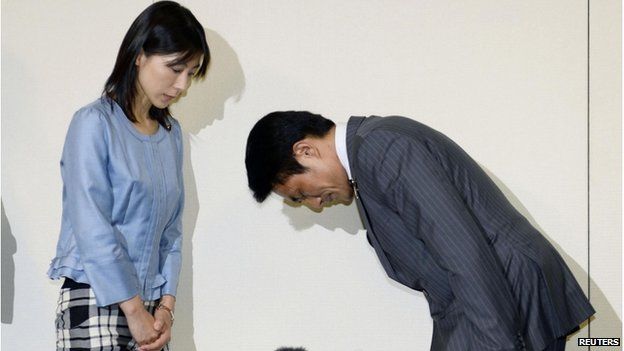 A male member of Tokyo's city council has admitted telling a female colleague to "hurry up and get married", in an incident that outraged many Japanese.
Mr Akihiro Suzuki shouted his remark at Ms Ayaka Shiomura at a meeting of the assembly last Wednesday.
Ms Shiomura was asking about measures to help mothers when the heckling took place.
Witnesses also heard the remark "Can't you have babies?". Mr Suzuki has denied saying that.
The heckling reportedly drew laughter from other members of the assembly. Ms Shiomura, who is 35 and not married, continued with her questioning and was seen wiping away tears after she finished.
Mr Suzuki, a member of the ruling Liberal Democratic Party (LDP), said he has personally apologised to Ms Shiomura and has offered to quit the party, reported Kyodo news agency.
The 51-year-old bowed in apology to Ms Shiomura in front of reporters at Tokyo's city hall on Monday.
He also told reporters: "I did not make these remarks out of any intention to insult lawmaker Shiomura.
"I recognise that there are women who want to get married and can't, and those who want to have children and can't. My comments were lacking in concern towards people like that.
"I deeply apologise for and regret that a comment I made set off such a huge fuss," he added.
Ms Shiomura, from the rival Your Party, said Mr Suzuki's apology "marks progress" but added that he was "a bit too late" in coming forward, according to the Asahi Shimbun newspaper.
The incident made headlines in Japan and sparked controversy. An online petition collected 70,000 signatures demanding the identification and punishment of those who heckled Ms Shiomura.
But some high-profile members of Japanese society, including politicians, diplomats and academics, have said publicly that she deserved such remarks because she is still single.
The government is set to unveil plans later this year to boost the number of working women. Japan has one of the lowest rates of female workforce participation among developed countries.