North Waziristan offensive: Anger and fear of refugees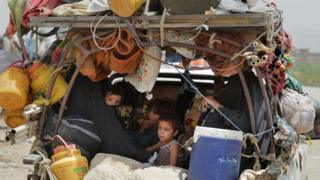 The dusty, sun-baked main road in Bannu in north-west Pakistan is filled with overloaded vehicles arriving from North Waziristan.
Tens of thousands of families have been fleeing the Pakistani army bombardment of Taliban targets in the tribal area in the past few days.
Many have had to spend long hours in intense heat - often without any food or water - for security clearance to enter the town.
Officials say that, in the coming days, their numbers are expected to swell to about half a million.
"My family is still stuck back home. Some of my relatives have travelled on foot to arrive here," says Ghulam Rasool, a resident of the main town of Miranshah in North Waziristan. He's furious with the Pakistan army for launching its latest offensive.
"The army is attacking our children with their missiles. Let them say they are helping us, but we will not take their help," he says angrily.
The army denies these charges, saying it's taking utmost care to target only militant hideouts to destroy their safe havens once and for all.
But many of those at the receiving end of this military operation told us they feel betrayed by the government for allegedly letting militants slip away before the start of the operation.
"The militants left the towns of Mir Ali and Miranshah before the bombardment started," says Maulana Gul Ramzan.
Until last week, he was a member of the peace jirga in North Waziristan mediating talks between the army and the Pakistani Taliban.
Today, he's forced to seek refuge with a friend in Bannu. He says the operation is fuelling hatred for the army.
"What's the point of this military operation now? Who are they trying to kill? The Taliban militants, Uzbeks and Chechens? Most of them were already long gone!"
For more than a decade the world has viewed North Waziristan as a base for global jihadists, where the Pakistani military was accused of tolerating militants. But the tribal region is also home to a large civilian population, estimated to be between 550,000 and 700,000.
"I don't care for the Taliban, or the army," says Khalid Ahmed, a resident of Mir Ali. "As civilians, we have long been crushed by the two sides."
For its part, the government has set up a relief camp at Baka Khel, near Bannu. Journalists weren't allowed to go there. But by the government's own admission, few families have turned up there, citing a lack of basic facilities like food, water and sanitation at the remote facility.
Many arriving families told us they plan to stay with friends or family in cities and towns across Pakistan. Some will have to find rented accommodation; others had no idea where they will end up, or for how long.
Among those on the move are tens of thousands of children, many of whom have never been vaccinated for infectious diseases like polio because of a Taliban-imposed ban. There are fears that the displacement could lead to the spread the disease, making Pakistan's struggle to contain polio even more difficult.
Health activists say that the latest crisis could be an opportunity to immunise children who were until now out of reach for health workers.
Indeed, as they arrive in Bannu, large numbers of children are being administered polio drops for the first time. But experts point out that for the vaccine to be effective, the children would need to be given the drops every few months for at least a year.
That may be very difficult as officials are unlikely to be able to keep track of all the displaced families as they move to resettle in cities and towns across Pakistan.
The military operation is still in its early days and an expected ground offensive is yet to begin.
So far, the military has managed to tightly control the war narrative. And it appears to enjoy broad political and public support.
But that could start to change if the fighting drags on and becomes too costly.
For now, the biggest challenge for North Waziristan's large displaced population is to find shelter and help rebuild their lives with some dignity.