Alexander Matusov: 'Russian mafia boss' held in Thailand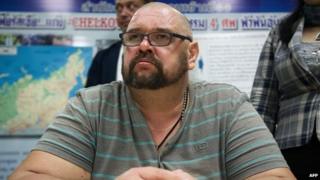 A man wanted in connection with dozens of murders and kidnappings in his native Russia has been arrested in Thailand.
Alexander Matusov is accused of leading a criminal group blamed for the murders of about 60 people since 1995.
He was arrested near a supermarket in Chonburi, east of Bangkok. Reports say he was in the country on a retirement visa.
Thai officials say they plan to deport him back to Russia.
Mr Matusov is said to be leader of the mafia gang Chelkovo, which operated from 1995 to 2009.
Alexey Falunin, vice-consult of the Russian embassy in Thailand, said it was "one of the most dangerous criminal gangs" operating at the time.
"The gang was responsible for about 60 murders" while it was active, Mr Falunin added.
Mr Matusov was arrested on Monday in an area popular with tourists, Thai police said.
He entered Thailand in 2009 and possessed a fake passport, they added.