South Korea retains PM who quit over ferry disaster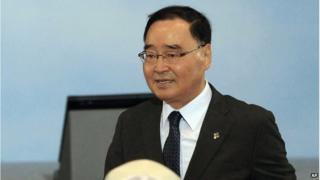 South Korea's Prime Minister Chung Hong-won, who offered to quit in April over the Sewol ferry disaster, will keep his job.
President Park Geun-hye announced she would retain Mr Chung, a decision she said was "agonising".
Two candidates whom she handpicked have attracted controversy, prompting them to withdraw their nominations.
Her administration has come under fire for the 16 April ferry sinking that killed about 300 people.
Critics hold the government responsible for the emergency response and rescue operations, which some believe was inadequate and could have saved more lives. The ferry was carrying 476 passengers, most of them schoolchildren.
Ms Park has already carried out a Cabinet reshuffle and replaced presidential secretaries, said news agency Yonhap, as well as promised reform of the bureaucracy to stamp out corruption and inefficiency.
Ms Park had first nominated a former Supreme Court judge Ahn Dai-hee to replace Mr Chung.
But he withdrew his nomination just a week later, following criticism over the amount of money he earned in the private sector following his retirement, local media reported.
Ms Park then nominated former journalist Moon Chang-keuk. But he too attracted controversy. Some accused him of being too pro-Japan in his previous editorials and remarks.
In 2005 he had written a piece arguing that Japan should not apologise for having used sex slaves - a sensitive issue in South Korea where some women were forced to become "comfort women" for Japanese soldiers in World War Two.
A Japanese panel last week concluded that South Korea was involved in the wording of a 1993 apology made by Japan. South Korea has denied this.
He also reportedly told a church in 2011 that Japan's colonial rule of the Korean Peninsula leading to its division into South and North Korea was God's will.
Mr Moon apologised for his remarks and the government has said his grandfather is believed to have fought against the Japanese. He withdrew his nomination on Tuesday.