Pakistan jet attack: Airlines halt flights to Peshawar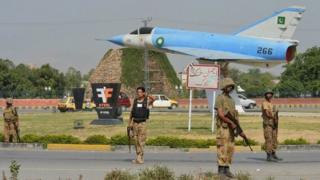 Qatar Airways has joined Emirates and Etihad in stopping its jets flying to the Pakistani city of Peshawar after a deadly attack on an airliner.
The Pakistan International Airlines flight was fired on as it landed on Tuesday, killing a passenger on board.
Police have arrested scores of people but say they do not have full control of areas around the airport where the shots are thought to have originated.
Hong Kong's Cathay Pacific says it is suspending all flights to Pakistan.
The move, which it said would come into effect by late June, follows a deadly attack on Karachi airport earlier this month.
The all-night siege at Karachi's international airport, the largest in Pakistan, left at least 39 people dead, 10 of them heavily armed gunmen.
The Pakistani Taliban and an allied Uzbek militant group said they jointly carried out the Karachi attack.
There was no immediate claim for Tuesday night's machine-gun attack on the PIA jet in Peshawar.
The BBC's Andrew North in Islamabad says even for a country accustomed to violence, there has been astonishment in Pakistan at the attack.
The pilot said it could have been even worse, describing his desperate efforts to dodge a volley of rounds he saw flashing around the cockpit as he brought the plane in.
Qatar Airways and the two other Gulf-based airlines have said they hope to resume services soon.
But the cumulative damage to Pakistan's image is severe, our correspondent says.
It comes just days after the government barred an Emirates aircraft with an anti-government cleric on board from landing in Islamabad because of rioting outside the airport.