Former Buddhist monk jailed for rape in Thailand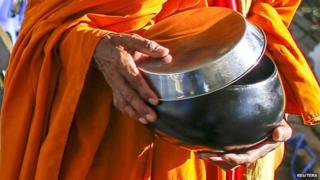 A former Buddhist monk has been jailed for five-and-a-half years for raping a teenage girl at a temple in the Thai capital, Bangkok.
The girl was less than 15 years old at the time of the assault last year. Her mother contacted the police after discovering contraceptives in her bag.
The monk, aged 65, was stripped of his holy rank after confessing to the rape.
The image of Thailand's Buddhist monks has taken a battering after a series of scandals involving sex and drugs.
The AFP news agency reports that a phone hotline has been launched to encourage reports of misconduct by monks.
The leader of the country's military junta has also expressed concern over the conduct of the Buddhist clergy. The vast majority of Thais are Buddhists.