Australia bishop charged with abuse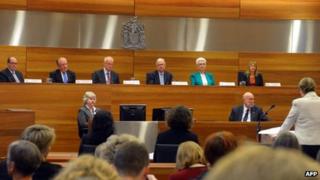 One of the most senior members of the Catholic Church in Australia has stepped aside after being charged with child sex abuse, the Church says.
Bishop Max Davis, who serves as the top Catholic official for the military, is accused of abusing a student in 1969.
In a statement, the Church said he "emphatically denies" the allegations and would defend the charge.
It relates to a period before Max Davis was ordained, when he was a teacher at a Catholic school in Western Australia.
"It is alleged in 1969 the man, who was a teacher at St Benedict's College in New Norcia, indecently assaulted a boy who was 13 years old at the time," Western Australia police said in a statement.
He had been charged with "three counts of Indecent Treatment of Children Under 14", it said.
The bishop is due to appear in court in Perth on 25 July. In its statement, the Church said he had decided to stand aside while the courts dealt with the case.
Max Davis has served as bishop of the Australian Defence Force since 2003.
The case comes as a national inquiry into child sexual abuse continues.
The Royal Commission into Institutional Responses to Child Sexual Abuse is examining religious groups, NGOs and state-care providers.
The commission was established by former Prime Minister Julia Gillard and launched in April 2013. The move followed pressure from lawmakers amid police claims the Catholic Church had concealed evidence of paedophile priests.
It has been holding both private and public hearings, and is due to report back in late 2015.