Indonesia presidential election explained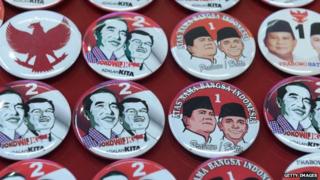 The governor of Jakarta and an ex-army general go head-to-head in a closely contested election on Wednesday to choose the next president of Indonesia, the country with the world's largest Muslim population.
It is the third direct presidential election since the collapse of the autocratic regime of Suharto in 1998.
Who is standing?
Joko Widodo, a businessman-turned-governor of Jakarta, and his running mate Jusuf Kalla, a former vice-president, are competing against former army general Prabowo Subianto and former economy minister Hatta Radjasa.
Mr Widodo, representing the Indonesian Democratic Party of Struggle (PDI-P), has been portrayed as a humble man of the people. He is known as an effective administrator and has sought to portray himself as the candidate from outside the establishment.
Mr Subianto, who leads the Greater Indonesia Movement Party (Gerindra), has modelled himself as a strong leader. But he has also had to contend with allegations of human rights abuses during his time at the helm of Suharto's special forces in the late 1990s.
What is at stake?
Both campaigns have used nationalistic rhetoric on the economy, corruption and other domestic issues such as infrastructure, education and social security.
Mr Widodo has pledged to boost Indonesia's productivity by supporting small and micro businesses and improving the financial system.
Mr Subianto has campaigned for stronger domestic control of the economy and limiting the role of foreign investors in the oil and gas sectors. He has also promised to reduce the "leakage" of Indonesia's assets which, according to his team, costs $84.5bn (£49.3bn) annually.
But a lack of detailed policies from either on how to create jobs or help boost economic growth has worried a lot of voters.
What is their approach to foreign policy?
Mr Subianto has stressed the importance of military might, saying international respect is based on prowess.
Mr Widodo wants to strengthen ties between Indonesia and other countries through streamlined diplomacy, saying military engagement is a last resort to resolve disputes.
Neither has been clear on Indonesia's foreign policy goals in South East Asia, and neither has put forward a definite stance on the growing tension in the South China Sea.
Who is going to win?
Polls suggest it will be a very tight race. Mr Widodo has led throughout the campaign, at one point having a 30-point lead. But the latest surveys suggest his lead has shrunk to less than five points.
Commentators say undecided voters will have a significant impact on results. About one-fifth of Indonesians fell in this category in the late June surveys.
How does it work?
Some 188 million people are eligible to vote. They will elect the president in a single round. Whichever candidate receives the most votes will win, and will serve for five years.
The official result will be announced on 21-22 July. The new president will be inaugurated on 20 October and will have to appoint a cabinet within two weeks.
BBC Monitoring reports and analyses news from TV, radio, web and print media around the world. For more reports from BBC Monitoring, click here. You can follow BBC Monitoring on Twitter and Facebook.