China detains Vietnamese fishermen in South China Sea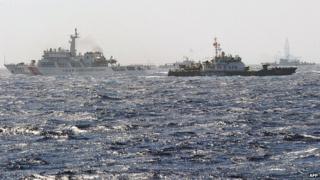 Chinese authorities have arrested six Vietnamese fishermen, officials say, in a move that could increase tensions in the South China Sea.
Vietnam said the men were detained in disputed waters where the two countries have been confronting each other over a Chinese oil rig.
China says the fishermen were in Chinese waters off Hainan island.
The two are locked in an intensifying dispute over territory in the South China Sea.
Each side has accused the other of ramming their boats in the area around the Haiyang Shiyou 981 oil rig.
Earlier this year Vietnam protested against China moving the rig to waters also claimed by Vietnam, at a spot near the disputed Paracel Islands.
Since then there have been several skirmishes at sea and China's refusal to move the rig sparked angry protests in Vietnam, which left at least two people dead and several factories burnt.
According to Vietnamese reports, sailors witnessed the seizure of the fishing vessel which was apparently in "common fishing grounds" in the Tonkin Gulf, says the AFP news agency.
But China's foreign ministry spokesman said the boat was seized for "illegal operations within Chinese territorial waters" close to Hainan.
China has for decades claimed a U-shaped swathe of the South China Sea.
But tensions have flared up in the region recently as China seeks to assert its claims in a more muscular fashion with a beefed-up maritime presence.
Its actions have upset several neighbouring countries, including the Philippines - which is taking China to a United Nations tribunal.