North Korea to send cheerleaders to Asian Games in South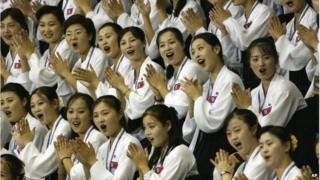 North Korea says it will send cheerleaders to South Korea for the first time in nearly a decade.
They will accompany athletes taking part in the Asian Games in September at the South Korean city of Incheon.
The cheerleaders and athletes are being sent to "improve relationships" between the North and South, according to a statement reported by KCNA.
North Korea last sent cheerleaders in 2005 for the Asian Athletics Championships, also held in Incheon.
That contingent was made up of 101 cheerleaders, including Ms Ri Sol-ju who went on to marry North Korea's leader Kim Jong-un, according to Reuters news agency.
The North has so far sent cheerleaders to South Korea only three times since the Korean War.
North Korea said on Monday that its decision to send cheerleaders again would "create an atmosphere" of reconciliation.
"Our sincere decision this time will melt the frozen North-South relations with the heat of national reconciliation while displaying the entire Korean people's will of unification in and outside (of the peninsula)," said the statement.
The North has of late reiterated calls for both sides to stop hostilities, even as it has continued with short-range missile tests.
In recent months it has also threatened to conduct a fourth nuclear test.
Last week Chinese President Xi Jinping and South Korea's President Park Geun-hye called on North Korea to stop its nuclear tests and denuclearise, during Mr Xi's visit to Seoul.
His visit was widely seen as a snub to the North, as it was the first trip where a Chinese leader visited the South before the North.